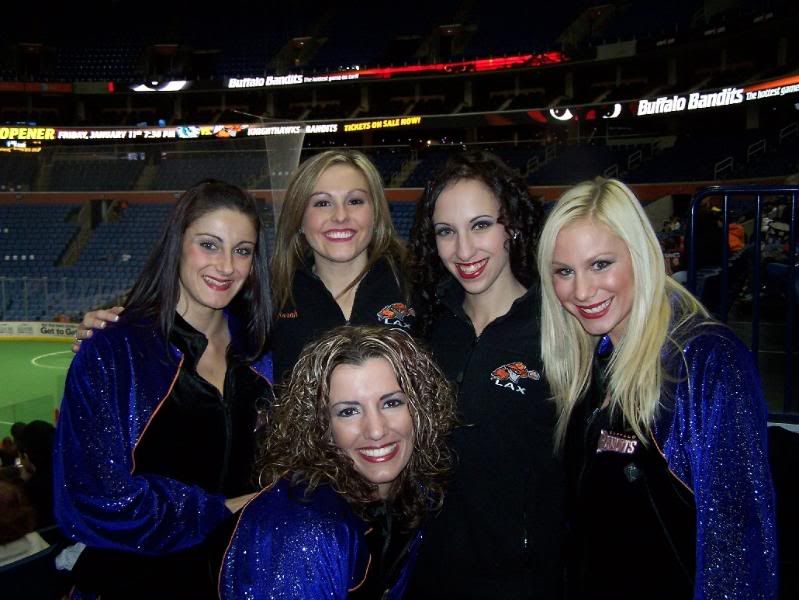 The 2007 Bandits fell short of their ultimate goal and have retooled for the 2008 season, in an effort to bring a Championship to the city of Buffalo. They put on an open practice on Saturday afternoon to thank the fans for their support and increase interest in the NLL. Judging from the number of seats available, season ticket packages seem to be up from last season.
The Bandits weren't alone in their retooling as the Bandettes had a few squad members not return from last season. In all, 9 vets return from 2007 with Erin H and Erin Y still the captains. Joining them are Sarah, Kimberly, Melissa, Beth, Meghan, Ashley, and Amanda H back for another season. A mixture of familiar and new faces make up the newcomers to the squad. Returning are ex-Bandettes Karla, Korinne, and Casey after a few seasons off. Amanda Z, Jessica, and Justina are 3 beautiful rookies in their first season as pro cheerleaders.
The Bandettes put on a routine prior to the practice as well as a routine midway through the practice that clocked in at over 3 minutes. After the routines they visited with the fans and were down on the field along with the players for an autograph session following the practice.
http://s17.photobucket.com/albums/b87/bandettes/2008/Open%20Practice/