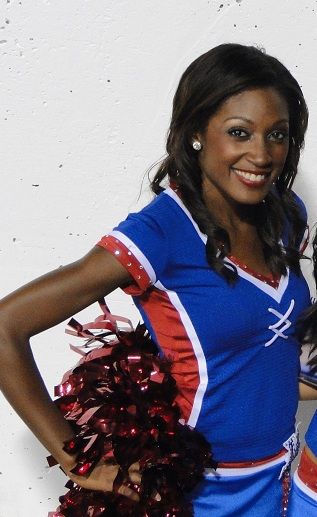 This week, we take a look at 4th year veteran ambassador Courteney as our Buffalo Jill of The Week. In her four seasons as a Jills Ambassador, she's not only accepted the role but she's embraced it. It's no big secret that the fortunes of the Buffalo Bills have been down for over a decade now and fans need some positivity before games these days. Most fans rely on the camaraderie at tailgate parties to help them keep a positive attitude but sometimes that's not enough. The Jills Ambassadors' primary job in pregame is to greet the fans at the tailgate parties, sell calendars, and stuff like that. If a Bills fan only gets a chance to talk to one and needs a positive attitude, Courteney is the girl to see. It's rare that she's ever in a bad mood although it's unsure whether the positivity was originally there or if it comes from the fact that she and her husband still act like they're newlyweds over 3 years since their wedding. You can read more about Courteney at
http://buffalojills.com/profile.php?PID=82
Courteney's secondary photo comes from the Bills Season Ticket Holder Draft Party held in April at the Healthy Zone Fieldhouse. Shown posing for some pictures from a few cameras are Nicole L, Courteney, Jacki, and Jill.
Nicole L, Courteney, Jacki, and Jill
Meet Courteney in this video from 1st cuts with intro by Jills choreographer Kelli Wagner.
Finally, read through Courteney's Jill of The Month article on Pro Player Insiders at
http://proplayerinsiders.com/buffalo-jill-of-the-month-courteney/
Jaclyn and Erin
From the Bandettes comes a photo from the home finale against the Rochester Knighthawks. Shown posing for a pic before the game are the two ladies who run this great organization, Jaclyn and Erin. See the Bandettes performing later in December at the Bandits Open Practice at First Niagara Center.