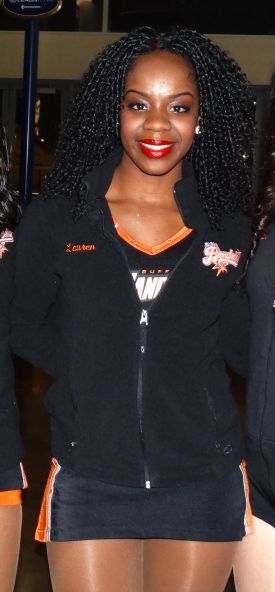 This week, we take a look at rookie dancer LaToya as our Buffalo Bandette of The Week. Dancing on Lauren's line on gamedays, LaToya seems to share a trait with the veteran she dances next to, co-captain Stephanie. Stephanie has long been known as a bit of a camera ham and it seems LaToya is a bit of one as well, definitely a good thing from a photographer's point of view. It's been said before on this Blog that Buffalo is blessed in the medical field not only with the advancements in the medical field but with the beautiful nurses, many of whom who have spent time as pro cheerleaders. LaToya is working to join that proud sorority and if her high school classmates are to be believed, she'll be an outstanding asset to any doctor or hospital she works for. She was called a teacher's pet growing up and they are usually at or near the top of their class. You can read more about LaToya at
http://www.bandits.com/bbio.asp?bandID=LaToya
LaToya's secondary photo comes from the 1st quarter of the Home Opener against Edmonton. Shown cheering on a goal are Stephanie and LaToya.
Stephanie and LaToya
From the Jills comes a photo from the 2009 squad, during the Buffalo Auto Show. 103.3 The Edge was sponsoring a contest called the Ultimate Tailgate Experience that included a cookoff to be judged by, among others, Kaitlin V and Amanda F of the Buffalo Jills.
Kaitlin and Amanda