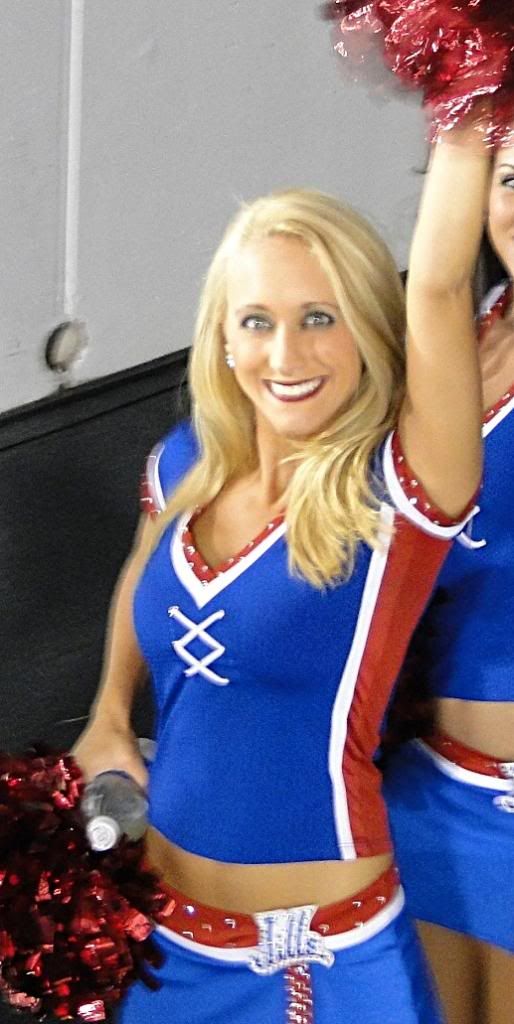 This week, we look at 3rd year dancer Jacki as our Buffalo Jill of The Week. Dancing on Val's line between Kelsey H and Maria, Jacki had a pretty remarkable career as a Buffalo Jills cheerleader. Her rookie season was partially spent injured with a bad wrist, causing her to miss a few games in the middle of the season before getting to travel to the Middle East for a troop visit, watching Super Bowl XLV in Saudi Arabia with 7 of her squadmates and the troops.
In her 2nd season, she got even more notice as she landed the back cover of the Buffalo Jills Swimsuit Calendar in a blue bikini that showed off a fantastic figure to go along with her incredible smile. She went above and beyond the call of duty that season as, at the Jills Comedy Show, she consented to be hypnotized and made a lot of memories for all those in attendance, even though she didn't know what she did afterwards until she got to see the videos I made for her. The best part of the show was when she was told she was auditioning to become one of J Lo's backup dancers with a performance that drew a lot of cheers and applause. In 2012, she didn't do anything grand like she did her 2nd season but she did do something even more significant. As a 3rd year vet, rookies looked up to her on how to carry themselves as Jills, even though she wasn't a captain or co-captain. From my vantage point, she set a very strong example of how to treat people and how to act with class, a lesson not lost on a few of her rookie linemates. You can read more about Jacki at
http://buffalojills.com/profile.php?PID=91
Jacki's secondary photo comes from last April's Buffalo Bills Season Ticket Holder Draft Party. Shown posing for the camera that Friday evening are Emily, Jacki, and Lisa.
Emily, Jacki, and Lisa
At last year's 1st cuts, Jills choreographer Kelli Wagner read a little intro to each of the girls as they came out on stage in their swimsuits. They were written by the girls themselves and and besides being beautiful and classy, Jacki is comical as well she shows in the comments that Kelli reads in her intro.
As if all that isn't enough, as seen in this video from last year's 1st cuts, Jacki is also an extraordinary dancer...J Lo would be lucky to have her.
From the Bandettes comes a photo at last December's Open Practice. Shown posing for the camera while the players were getting set to come up for an autograph session are the owners of two of the prettiest smiles on camera this spring...Stephanie and Chrissy.
Stephanie and Chrissy