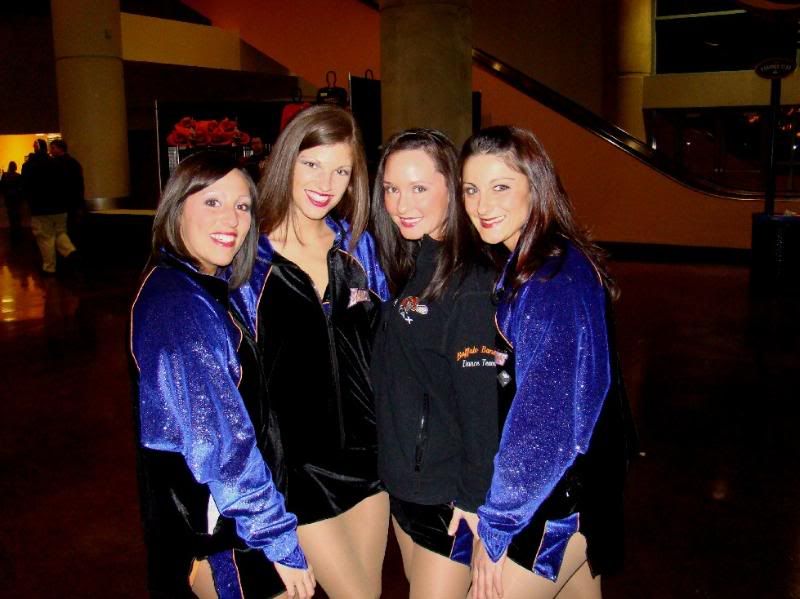 The 3-4 Buffalo Bandits returned home for the first time in a month Saturday night to a daunting task to say the least. Missing 2nd leading scorer Kevin Dostie and starting goaltender Mike Thompson, the injured squad had to face off against the 6-0 Minnesota Swarm. A 9-6 halftime deficit was overcome by a 5-goal 3rd quarter and the hometown Bandits knocked the Swarm from the unbeaten ranks with a 16-14 win.
The game wasn't all that was tight as the Bandettes took to the field for the first time in a month and showed no signs of rust as they helped keep the crowd pumped up to help the home team to the win. They started the evening early as the gates were opened at 6pm, a half hour early, and they greeted the fans and posed for pictures as the fans showed up for the game.
http://s17.photobucket.com/albums/b87/bandettes/2008/Swarm/
The Bandits and, of course, the Bandettes are back at the HSBC Arena on March 1st when the Philadelphia Wings come to town. Gates will again open at 6pm as the Bandettes will be signing their posters at the top of the east escalators before the game.
3rd intermission routine was choreographed by Korinne