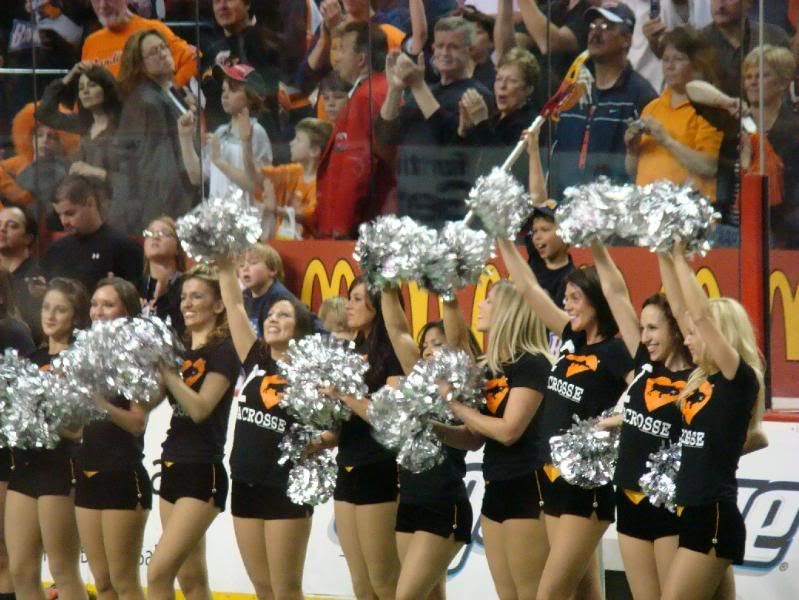 Two years ago, the Buffalo Bandits hosted the Colorado Mammoth in the NLL Championship Game and everything that they did to get that far was promptly forgotten as they fell apart to their opposition. Last year, they couldn't even get that far as they lost to the Knighthawks in the NLL East Finals. The Bandits had a rough start to the 2008 season as injuries sidelined numerous productive players from last year's squad as well as a pair of offseason acquisitions that were expected to improve the Bandits' offensive firepower. Things looked rough for the team to even make the playoffs as the team struggled mightily early in the season.
However, the team pulled together as injured players like Brett "The Threat" Bucktooth and Kevin Dostie came back from injury and Mark Steenhuis picked up his game. But the final piece to the puzzle came when the Bandits shipped out assistant captain Dan Teat and received former Bandit Mike Accursi in a trade with Calgary. Sporting a Championship ring from last year's Knighthawks title run, Accursi solidified the Bandits attack and helped propel them to the NLL Eastern Division Title.
As hot as the Bandits were in their push to the playoffs, they stepped it up even hotter during the actual playoffs in wins over Philadelphia and New York to reach their 3rd NLL Title Game in 5 years. Unlike the game against Colorado two seasons ago, the Bandits didn't forget how they got to this point as players left it all on the field in front of goaltender Mike Thompson, even moving sophomore forward Brett Bucktooth back to defense when NLL All-Star defender Chris White went down with a broken ankle. Mark Steenhuis capped off a terrific season with an MVP effort, notching 5 goals and an assist. Even with all that, Portland's giant team (4 players 6'5" and above) kept it close all game and had a chance to force overtime in the final minute of play. In front of the sold-out crowd, however, the Bandits delivered what Banditland has been waiting for for 12 years as they pulled out the 14-13 win and came away with the 2008 NLL Champions Cup.
Obviously, this site is less about the games and more about the ladies on the sidelines and that's why this post has saved the best for last. There are two types of cheer/dance teams around. There are those who cheer for competitions primarily and for sports teams as an afterthought. Their victories come in the form of titles at state and national championships. The other type are the girls who are clearly talented enough to win competitions but cheer on the sports teams with little thought of getting their own titles. Pro Cheerleaders, like the Bandettes and the Jills, fit that latter description. A lot of these girls started dancing at an early age and move on to cheer at the professional level after years of hard work. They don't do it for titles and they certainly don't do it for money as most pro cheerleaders get paid very little if at all. They do it because they love to dance, because they love to broaden their horizons by giving back to the community, and because they love the team they're rooting for. The Bandettes fit all three of those descriptions but even though they're getting to dance and do what they love, it's a shame when all the hard work they put in isn't rewarded by a championship in their sport. That's the ultimate reward for this type of cheer/dance team.
Out of the 4 squads we've covered here, Jills, Bandettes, Bombshells, and Rush, only the Bandettes have ever gotten the reward for their efforts that they deserved. The Bills' 2 AFL titles came before the Jills Organization came into being, the Bombshells left town as the AFL's Buffalo Destroyers moved to Columbus and the Rush squad was dissolved midway through their inaugural season due to league mismanagement. While the Bandettes as a squad has enjoyed getting to cheer on Championship teams before, those times came 12 years ago and more and do little to reward the efforts of the current squad. Of the current squad, Beth, Erin H, Erin Y, Kimberly, Meghan, Melissa, and Sarah were part of that squad that cheered on the Bandits 2 seasons ago. It was the ultimate in letdowns for these young ladies as they cheered their hearts out and worked their tails off all season long and during that title game hoping to see their Bandits hoist the Champions Cup only to see them fail right in front of them. This season, those 7 girls came back along with Amanda H and Ashley from last year's squad as well as Casey, Karla, and Korinne who had each been off the squad for at least 2 seasons. They added on rookies Amanda Z, Jessica, and Justina to round out a 15-girl squad and behind the coaching of a former Buffalo Jills Pro Bowler at coach in Erin J as well as the assistance of former Bandette Jaclyn, they worked hard all season long and got the reward they so richly deserved in a Champions Cup-winning Bandits team.
So to the Bandits, thanks for getting this win not only for yourselves and the fans of Buffalo, but for the Bandettes who really deserved this Championship as much as anyone.