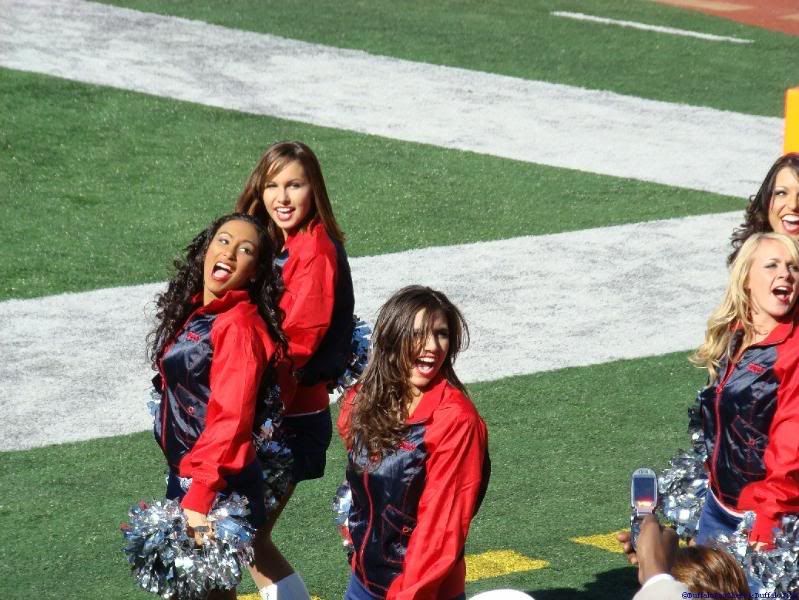 On Sunday, Ralph Wilson Stadium was the scene as the San Diego Chargers faced off against the AFC East leading Buffalo Bills. People trying to watch the game on TV were out of luck for the most part as electrical problems, caused by helium-filled party balloons that tangled in the stadium's power lines, caused the CBS broadcast to be interrupted a few times during the game. In addition, the scoreboard, sound systems, and lighting were on and off sporadically throughout the bulk of the game. The fans that were there, however, got a great show as the game remained tight much of the day until the Bills surged late in the 3rd with a Marshawn Lynch touchdown and iced the game with a FG by Rian Lindell late in the game and a pair of huge drive-ending plays by free agent addition Kawika Mitchell with an interception and then a forced fumble, the latter of which finishing the game for good as the Bills improved to 5-1 with the 23-14 victory.
The Chargers are well-known for having beautiful cheerleaders and the Jills continue to prove they're at least on par with the Chargers Girls with their beauty and their sideline routines during the game. Members of the ambassador squad posed for pictures with fans and sold swimsuit calendars at tailgate parties sponsored by 97Rock and 103.3 The Edge as well as inside the Fieldhouse while Paul Peck and Rich Gaenzler hosted the Official Bills pregame show just a few feet away. After they were finished in the Fieldhouse, 2nd year vet Ambassadors Vincenza and Keisha joined team mascot Billy Buffalo in his travels during the game.
Unfortunately, the electrical problems caused another problem as well. While the Jills kept cheering on the sidelines and dancing, when the electricity was working, the pregame routine and 3rd intermission routine had to be scrapped for this game. We still have plenty of photos from the day and even the ill-advised contraption that covered over the tunnel before the game only hindered the photography a little.
Next up for the Jills is the Swimsuit Calendar Release Party at Club Paradise on October 25th.
After that, we'll find a few of the girls at Rhino's Rock Bar in Orchard Park for the 103.3 The Edge Away Game Party watching the Bills-Dolphins game along with the fans on October 26th. The Jills are back at the Ralph to cheer on the Bills on November 2nd as they play host to Brett Favre and the NY Jets, a team that finally added cheerleaders in 2007.