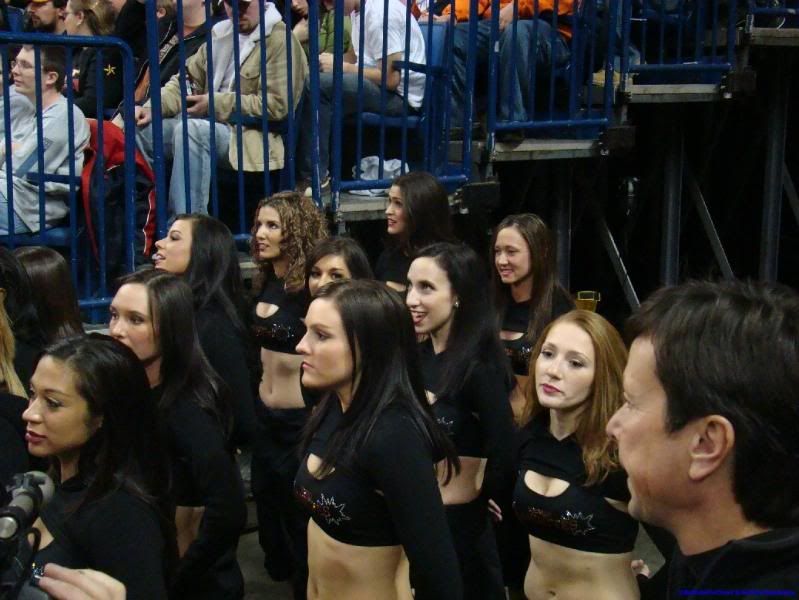 Last week in Toronto, Bandits netminder Ken Montour held the Rock to 6 goals in an 8-6 win for the visiting Bandits. Back home on Friday night, Montour stifled the visiting Rochester Knighthawks just as much. However, while the Bandits only put up 8 goals in Toronto, on this night they had those 8 goals by halftime with an 8-3 tally. In the second half, however, the scoring really took off for the Bandits as they piled on an additional 15 goals to humiliate their thruway rivals. Besides goaltender Ken Montour stepping up in a big way, last year's Championship Game MVP Mark Steenhuis made his presence felt to the tune of 8 goals while Roger Vyse chipped in 5 goals of his own, including one that squeaked in as time expired at the end of the 1st half.
The Bandits weren't the only ones putting on a show for the 15,494 in attendance as the league's premier dance team, the Buffalo Bandettes put together exciting routines in pregame and during the intermissions. During the game itself, the Bandettes kept the fans near the arena's Zamboni entrance enthralled as they danced to the tunes played throughout the game.
Next up for the Bandettes, they'll be practicing for the next month while the Bandits spend the next few weeks on the road. They next take the floor at HSBC Arena on Saturday, February 14th as the Bandits play host to the Toronto Rock in a game that could be every bit as close as the 8-6 thriller played last week in Toronto.