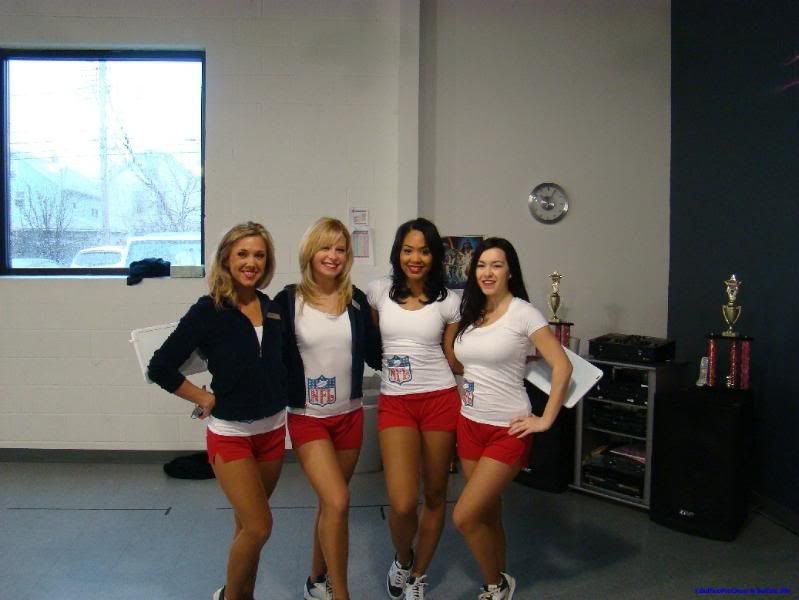 This time of year. football fans are getting ready for the draft and in the cheerleading community, they're also getting prepared for the upcoming season by restocking their rosters. In the case of the Buffalo Jills, they just started the tryout process with an Open Workshop for all interested young ladies at Fusion Dance Studio in Buffalo, the studio run by one of the finest choreographers in the business, Kelli Wagner, the Jills' choreographer. Like most squads, all veterans have to try out again with the exception of the 8 pre-selected captains and co-captains. Last year, 17 veterans, in addition to the 8 captains, returned to tryout and every one of them made the squad. This year, we see how many of the 41 vets return to make up the 2009 Buffalo Jills. A few have already decided not to return while some more may be on the fence. A couple of alumni are looking to return and a lot of prospective rookies are competing with many talented veterans looking to fill in the 37 or so empty spots on the squad.
Tryouts continue Tuesday night with another workshop, sort of a condensed version of today's workshop for those who couldn't make it today and to provide extra help for those who feel they might want it.
Thursday night, the next level of tryouts continue with the 1st cuts for the Ambassador Squad at Fusion Dance Studio in which young ladies looking to escort Billy Buffalo on Sundays in the fall get their first chance to prove they're up to the task of being an Ambassador Jill.
On Sunday, April 5, Jills tryouts move downtown to the Town Ballroom from 1-4pm in front of the public when they make the 1st dance cuts and the 2nd Ambassador cuts. Dancers will demonstrate the routine they learned in today's Open Workshop in front of judges while Ambassadors will introduce themselves to the judges and show whether they have the qualities required of a Buffalo Jill. Admission to the event is $5 a person and the participants, all putting a lot of hard work into trying to make the squad, would do well with a lot of positive reinforcement from friends, family, and fans.
A few restrictions are in place for this that will be brought up again at the start of the event. While the young ladies are out on stage to try out, no flash photography will be permitted. Cameras are allowed but the lighting will be bright enough that no flash will be needed and it would distract the participants. Also, quiet will be asked for during the routines so as to allow the young ladies to concentrate on what they need to do.