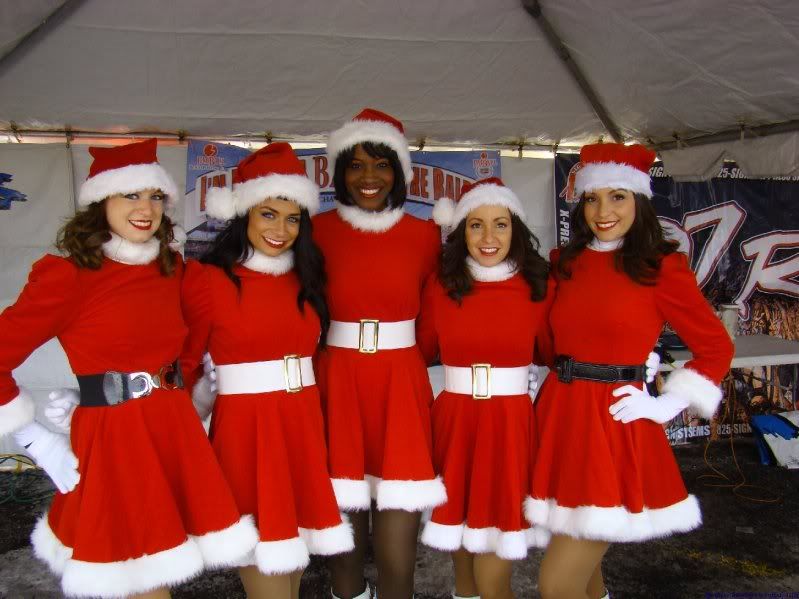 This time of year is a time for giving and unfortunately, instead of giving their fans a happy holiday season, the Bills, with some help from some questionable officiating calls, gave away a game to the hated New England Patriots for a 13th straight time. Thankfully, this blog isn't about the game itself or else it wouldn't be very family friendly when describing the game, the officiating, and the fans who chose to disrupt the Bills offense with excessive noise during critical offensive plays that resulted in false starts.
Instead, this blog is about the beautiful ladies on the sidelines, who never have fans pulling out their hair or frustrated.  Well, there might be some frustration for guys when they fall in love with these young ladies but that can't be helped. Prior to the game, members of the Ambassador Squad were found at the 97Rock and 103.3 The Edge Tailgate parties as well as inside the Fieldhouse in their Santa's helper outfits posing for pictures and signing autographs for the fans. Prior to kickoff, 3rd year vet co-captain (and next week's Buffalo Pro Cheer Jill of The Week) Jill delivered the game ball before the entire squad performed to some Christmas music. They even did a big performance in the tunnel endzone to Christmas music as well still wearing their Santa hats with their winter gear. http://s15.photobucket.com/albums/a375/buffalojills2005/2009/Pats%20game/
Coming up next, 103.3 The Edge is holding its final Away Game Party of the season on Sunday, December 27 as the Bills visit Atlanta to face off against the Falcons. The Aud Sports Bar and Grill in Depew is the place to be whether you haven't made it there this season or have been there before. This week, in addition to the large prize table, wing and drink specials, buffet, and visits by the Buffalo Jills, they'll be giving away a 47 inch TV. You must be present to win this prize so if you've been there and entered before during the season, you'll forfeit your chance to win this TV if you don't show up.
The Jills take the field at the Ralph one final time this season as the Bills host Peyton Manning and the Indianapolis Colts. Gametime is currently set at 1pm for this matchup against former AFC East rivals. However, with the Colts possibly playing for a perfect season, there is a chance the game could be moved to a later start, news which would be announced no later than Monday, December 28th.