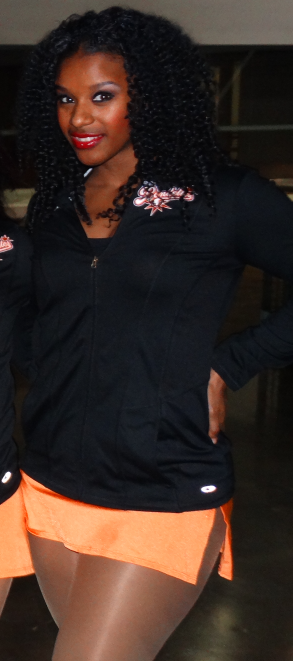 This week, we take a look at tall, dark, and beautiful Jennifer as our Buffalo Bandette of The Week. Always smiling, Jennifer is originally from Chicago and can find the positive in anything. Already having finished school, she's got plans to one day go back for her Master's degree and isn't letting her future plans stop with her education. She's hoping to one day become an athletic trainer with a professional team like the 716ers or the Bandits and also wants to travel all over the world, including Antarctica. While they won't be traveling to the frozen continent anytime soon, maybe Jennifer can work with the Harlem Globetrotters and travel the world with them. You can read more about Jennifer at
http://www.bandits.com/bbio.asp?bandID=Jennifer
Jennifer's secondary photo comes from the Bandits Home Opener when some of the Bandettes were greeting fans at the gates on their way into the game. Shown posing for a photo are Jennifer, Mandy, and MaKenzie.
Jennifer, Mandy, and MaKenzie
From the Jills comes a photo from the 2011 Alumni Open Practice. For the Breast Cancer Awareness game against Philadelphia, the Jills recruited about 150 former Jills to join the 2011 squad for a huge pregame performance and for a few weeks prior, the Fieldhouse was packed during Jills practice time, including one evening in which family and friends were invited to come watch some of the practice. Shown posing for a quick photo before starting are Lisa and Murissa.
Lisa and Murissa