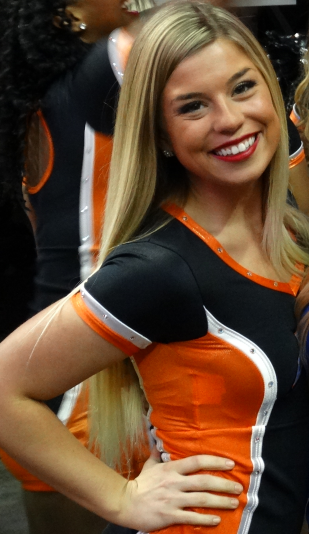 This week, we finish up our 2016 Bandette of the Week series by taking a look at 5th year vet Stephanie. After serving as a co-captain last season, the longest-tenured vet on the squad is now not only a captain, but along with fellow captain Mandy, has been a coach for the squad as well ever since tryouts. Being a coach/captain is only the latest accomplishment in a fulfilling career for her after 1st getting named NLL Girl of The Year her rookie season and getting her picture on preseason publications the following year. Her sense of humor is only matched by her sense of responsibility and is a natural leader on the Bandettes with not only her experience but her personality. It's said that a boss stands back and tells you what to do but a leader shows you by example and Steph has been setting a great example to everyone around her for years. She's hardworking always with a smile on her face and treats everyone with warmth and sincerity. One would think someone with her beauty might be unapproachable but she's as easy to talk to as anyone I know. It doesn't matter if she's just met you or she's known you for years, she's still going to be genuine and fun to be around. Stephanie's secondary photo is from the Home Opener against Edmonton. While greeting fans coming into the game, MaKenzie and Stephanie posed for this photo together.
MaKenzie and Stephanie
From the Jills comes a photo from the 2009 Jills Open Workshop. One of the things that the veterans look forward to most is reconnecting with squadmates they hadn't seen in over a month. Posing for this photo shortly after showing up to learn the routine at Fusion are Ayeshia and Valerie.
Ayeshia and Valerie