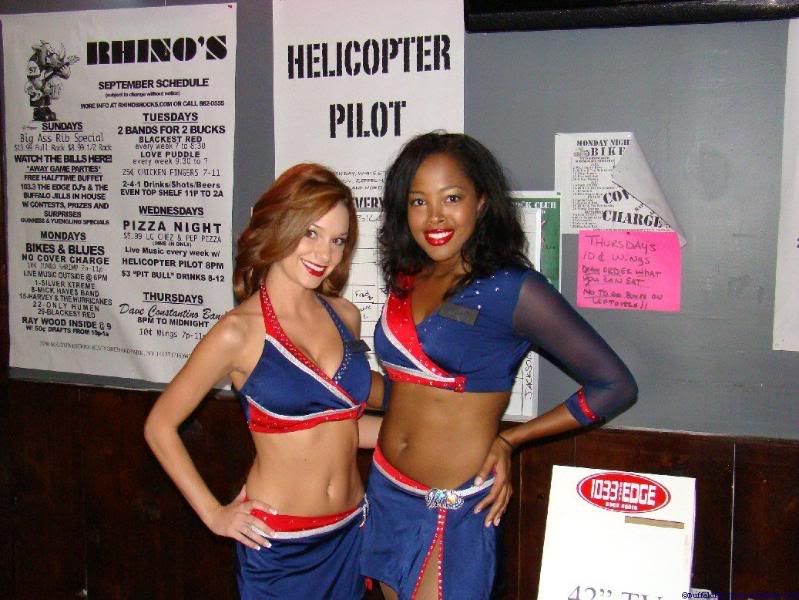 Last week, the Bills put in a dominating performance at home against the Seahawks while the Jacksonville Jaguars were handled by Tennessee. This week, the Bills went on the road in Jacksonville into triple digit temperatures and after controlling the first half of the game, fell behind in the 3rd thanks to an efficient Jags offense. But the game is played with 4 quarters and the visiting Bills came back in the 4th with a touchdown pass to rookie James Hardy and a Rian Lindell FG to ice the game.
When the Bills are on the road, it leaves the Jills free to either relax and watch the games or to make appearances. Obviously, big away game parties can't be complete without the Jills and 103.3 The Edge, one of the primary sponsors of the Jills, puts on a party every away game at Rhino's Rock Bar on Southwestern Boulevard in Orchard Park, only 1 1/4 miles from the Ralph. This week, rookie Ambassadors Brandi and Alison were on hand to sell raffle tickets, calendars, and pose for pictures with the Bills faithful during the game.

Next up for the Jills, they're back at the Ralph cheering on the Bills as they take on the visiting Raiders on the 21st. This day has extra meaning as the NFL's all-time sack leader, Bruce Smith, gets his place on the Wall of Fame at halftime.
After that is the Jills 2009 Calendar Shoot Fundraiser at SoHo on Chippewa. Tickets are $20 and cover all you can eat pizza, wings, beer, and wine from 6-9pm on the 27th. All proceeds go to help fund the 2009 Swimsuit Calendar Shoot.
The Jills are back at Rhinos on the 28th for the Bills-Cards game at 4:05pm.