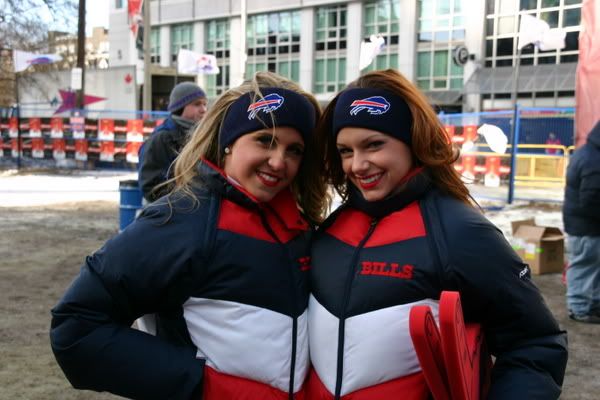 The Bills this year have kicked off a series of games in Toronto meant to help lure corporate dollars down to Orchard Park for the real Bills home games at Ralph Wilson Stadium. As a part of that series, Buffalo beauties, the Buffalo Jills, were on hand for the game and pregame just as they are for any regular game at the Ralph. Unfortunately, another part of the series is highly inflated ticket prices that most blue collar fans can't afford. While I myself wasn't able to attend this game, we aren't going to be deprived of photography of our Buffalo Jills. Lynnie Burak of BuffaloRange.com Bills message boards was on the scene and snapped some photos from the upper deck at the Rogers Centre for us.
Up next for the Jills, we'll have a pair at Rhino's Rock Bar in Orchard Park each of the next two weeks for the first half of each game for the 103.3 The Edge Awaay Game Parties.
The Jills next take the field on December 28th at Ralph Wilson Stadium as the Bills finish out the season against the hated New England Patriots.
While making the game to see the Buffalo Jills is certainly a great idea, it won't be the last time to see the 2008 squad this season as the Jills are invading Club Paradise on January 16th for the Jills Adult Comedy Show. Stay tuned for further information, including tickets.