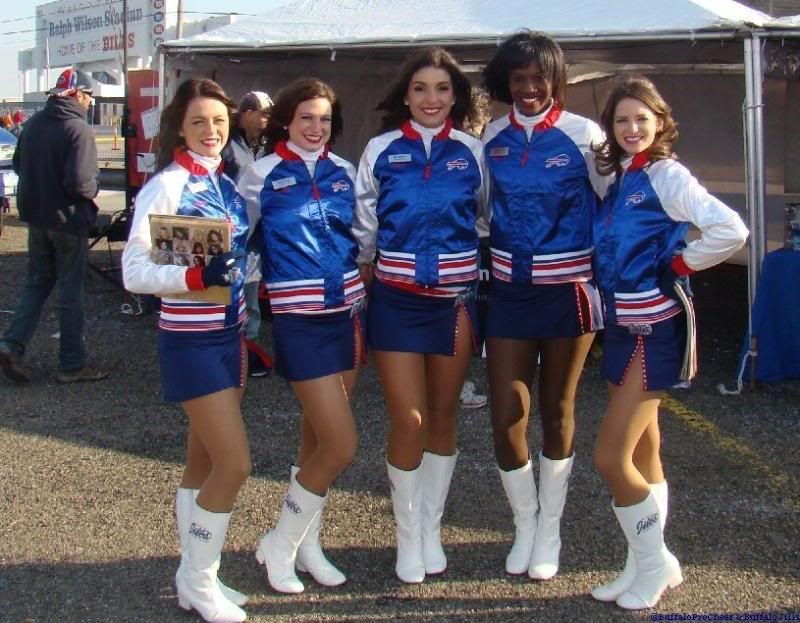 After a loss last week in which the Bills showed more fire than they have all season, Bills fans had a little bit of hope for their annual hosting of the hated Miami Dolphins. With Hall of Famer Bruce Smith getting his HOF ring at halftime and other greats in attendance, the stadium was electric all the way through the final whistle, with the Bills sending the Fish packing with a 31-14 slaughter of their hated rivals.
Last year's game was in Toronto so fans got to tailgate this year and meet the Jills Ambassadors at the 97Rock and 103.3 The Edge Tailgate Parties this year. Inside the Fieldhouse, Kelly Ann and Swimsuit Calendar Covergirl Katy played a bit of Family Feud as part of Classic Hits 104.1's contribution to the Bills Gameday Experience when they weren't signing autographs and taking photos with their fans. Prior to the game, 5th year vet and co-captain Katie made the game ball delivery with the aid of 9-year old Mason Muffoletto, a Buffalo youth who saved his grandfather's life last week with CPR when he suffered a heart attack.
The game itself was exciting, with the teams keeping it close until in the 4th quarter when the Bills pulled away behind a few big plays. The Jills also kept it exciting on the sidelines and even debuted a new performance in the scoreboard endzone after the 3rd quarter.
Coming up next, the Bills and the Jills head north to Toronto to play "host" in the Rogers Centre to the New York Jets in a primetime matchup on NFL Network's Thursday Night Football. Prior to the game itself, members of the Jills will be appearing at the Budweiser Tailgate Party at the intersection of Lower Simcoe St. and Bremner Blvd, which takes place from 3-8pm.
If you're looking for something to do on Saturday, many of the Jills will be appearing at Snow Park Niagara in an event to benefit the Breast Cancer Association. The event takes place from 10am-1pm on First Street in Niagara Falls, NY.