The 2011 Buffalo Bandits came into the 3rd game of the season with a 1-1 record and some more decidedly defensive-minded games, having only scored 9 goals in each of their previous games. Coming in, the Toronto Rock were clicking on all cylinders from an offensive standpoint and the Bandits had to turn on their offense and pulled out a 15-14 OT win in front of 16,685 excited Buffalonians starved for a winning team.
Jessica H, Lauren B, and Chelsea in the West end of the pavilion
Prior to the game, the Bandettes greeted fans coming into the game and posed for photos and signed autographs for the fans.
Melissa's line in the East end of the pavilion
During the game, the Bandettes kept the energy going with a lot of dance routines in the Zamboni entrance to the arena and really pumped it up with some outstanding dance performances at intermissions.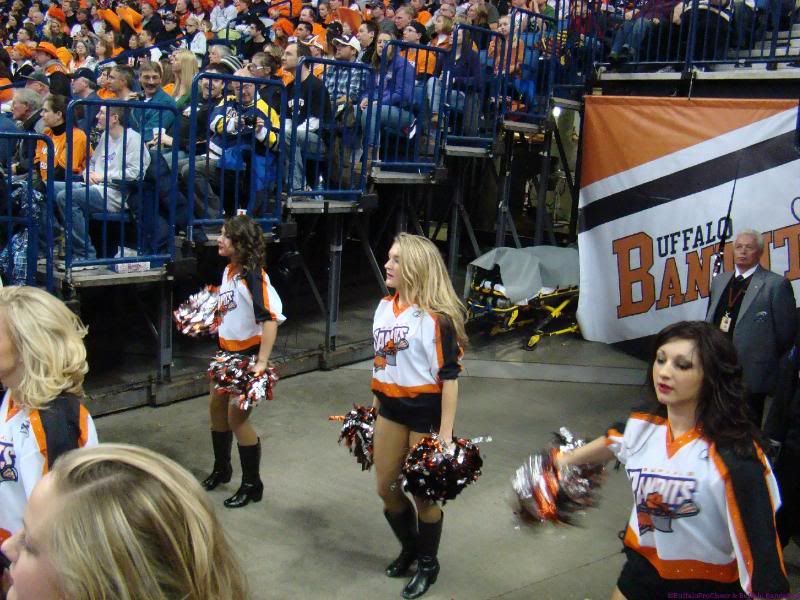 Stephanie, Melissa, and Lauren S in action
Postgame parties, unfortunately for younger fans, moved away from Pearl Street to the Cobblestone bar where fans over 21 could meet and mingle with the players and Bandettes. While the 21-and-over rule is a detriment, the fact that the players and Bandettes are a little more accessible than at Pearl Street may make up for it for some fans. Personally, I preferred the Pearl Street set-up because a league that markets itself as family-friendly would do a lot better to keep post-game parties the same way but everyone will have their own opinions and should check it out after a game this season.
Also, stay tuned to the Buffalo Pro Cheer Blog this week as I'll have the Bandette of The Week schedule posted with veteran co-captain Beth leading off the series starting next weekend!