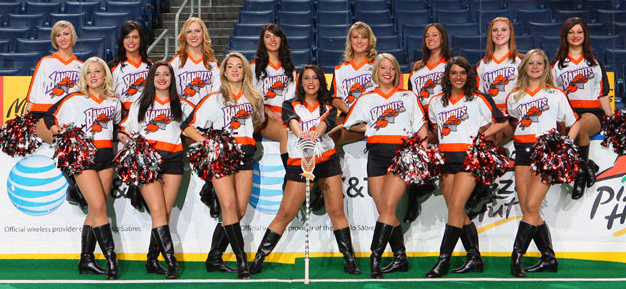 Think you have what it takes to join a professional sports dance team and perform for fans at the First Niagara Center? The Buffalo Bandettes Dance Team is now looking for applicants to fill out their 2012 roster. The Bandettes are the hottest dance team in the National Lacrosse League as they dance for the perennial championship contenders, the Buffalo Bandits.
Auditions will take place over two days; Saturday Oct. 22 and Sunday Oct. 23 from 1:30 p.m. until 4 p.m., with registration at 1:00 p.m., at Gold's Gym located at 1402 French Road in Depew. Registration forms and waivers will be provided on site at Gold's Gym.
On Oct. 22, you will learn the dance routine from the Bandettes choreographers, and perform on the Oct. 23 as well as interview with the judges. The 2012 team will be announced that Sunday evening.
When attending on Saturday, please remember the $25.00 Non-Refundable Application Fee as well as a current photo (photo will not be returned). Candidates must be at least 18 years old and have at least a high school diploma or its equivalent.
For questions, contact
beabandette@yahoo.com
.
See further details at
http://www.bandits.com/newsX.asp?type=News&aID=274