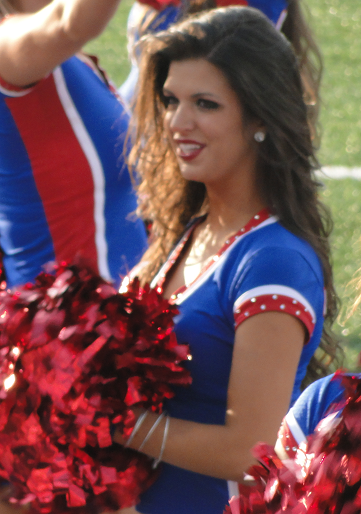 This week, we take a look at 4th year vet Emily as our Buffalo Jill of The Week. In her 1st season as a captain after getting named co-captain in 2012, she'll be the longest tenured on the squad assuming she chooses to return in 2014. She finished off last season taking a trip to Tokyo with other NFL cheerleaders and this season, finishes it off in Hawaii after getting named to the Pro Bowl by her squadmates. Sadly, a lot of young ladies, after finishing their cheering days, don't do much as far as dancing afterwards. Emily will be one of those who continues on after having received her Bachelor's in Dance and has plans to open her own studio. Odds are she'll live vicariously through her little sister as well as she considers her to be her best friend and the greatest gift she's ever received. On occasion over the years, I've noticed a rookie or two at tryouts who just seems too good to not make it...and truth be told, I've always been right. In 2010, Emily and Natalie (2010-11) were definite standouts like that and to be honest, watching Emily go from aspiring rookie to Pro Bowler is quite the thrill...because I know she's going to wow everyone in Hawaii with her beauty, inside and out. You can see all of Emily's pics at
https://buffaloprocheerbuffalojills.shutterfly.com/jillsindividualpics/6546
Emily's secondary photo comes from the Bills' Opener against New England. Shown coming off the field at the end of the game are Jayanti, Hayley, and Emily.
Jayanti, Hayley, and Emily
Be sure to check out Jennifer Mobilia's #BillsMafia article on Emily's selection to the Pro Bowl at
http://billsmafia.com/2013/11/16/interview-buffalo-jills-2014-pro-bowl-representative-emily/
From the Bandettes comes a photo from the February game against the Rochester Knighthawks. Prior to the game, one line would visit with fans at the pregame party at Cobblestone as well as sell raffle tickets. Shown posing for the photo are Brianna A, Danielle, Lauren K, and Chrissy. See them and the rest of the 2014 Bandettes when the Bandits host the Philadelphia Wings at an Open Scrimmage at First Niagara Center on December 7th!
Brianna A, Danielle, Lauren K, and Chrissy