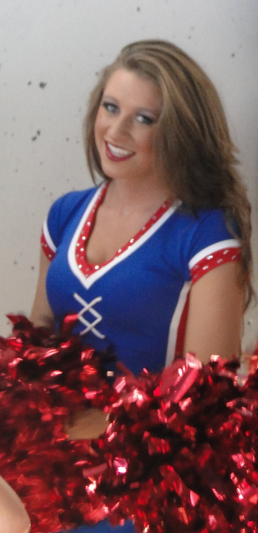 This week, we take a look at 2nd year vet Megan as our Buffalo Jill of The Week. A gifted tumbler, Megan could be found anchoring one end of Christina's line alongside Shelby H. A future high school history teacher, she plans to also continue to coach cheerleading and/or gymnastics coach in the evenings. As a child, Megan was a Jr Jill before growing up into 2012's beautiful dance rookie of the year award winner. Being a winner is nothing new for Megan as she grew up competing in gymnastics and all-star cheerleading. While getting her degree, she also competed in collegiate diving and is currently working on taking her Bachelor's Degree and using it to help her get her Master's Degree in Social Studies education. Even though her focus is on becoming a high school history teacher, she does dream about another future as well. She'd like to be the next Oprah except that she'd take her show on the road and do her interviews in all sorts of different locales. Of course she also has a much better figure but I would imagine that would be pretty obvious. You can see all of Megan's pics at
http://buffaloprocheerbuffalojills.shutterfly.com/jillsindividualpics/56289
Megan's secondary photo is a shot from late in the 3rd quarter of the Panthers game. Shown performing a cheer in the endzone are Megan, Melissa M, and Hannah.
Megan, Melissa M, and Hannah
From the Bandettes comes a photo from last week's season opener against the Wings. Shown is a group shot of almost the entire squad. Only missing are LB, Ashley, and Brianna N. We'll have the Bandette of The Week series starting up very soon leading off with 6th year vet Kirsten!