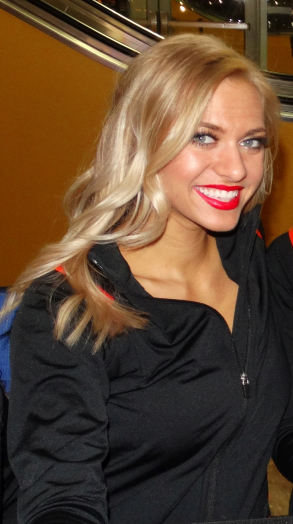 This week, returning alum Amanda C takes the spotlight as our Buffalo Bandette of The Week. After spending a portion of the 2013 season as a Bandettes Ambassador, she returned to the squad with renewed focus and dancing up a storm on Mandy's line. Getting to dance again was what drove her to return to the squad and while she appreciated the opportunities she got by being an Ambassador, dancing was always her goal. She has been dancing since the age of 4, after all. This season, she's been loving being back on the squad with how crazy the games have been and her squadmates, only 2 of whom, Stephanie and MaKenzie, were on the squad with her in 2013. When she's not dancing, she's looking to finish her education and do a bit of travelling...to Spain perhaps. Obviously that travel would have to be during the summer with Bandettes in the spring and Bills games in the fall. Yes, she's a big Bills fan as well, something which I would say runs in the family as I've known her uncle for years through Bills games and tailgating. It makes me wonder if she shares his love of cooking since she also shares his love of chicken wings. Amanda's secondary photo is from the game in Toronto a few weeks ago. Prior to the game, the Bandettes joined the Toronto Rock Cheerleaders in greeting fans coming into the game. Shown posing for a photo are Angela, Rachel, Amanda, Janelle, and Jackie.
Angela, Rachel, Amanda, Janelle, and Jackie.
From the Jills comes a photo from a 2009 Away Game party. That season, 103.3 The Edge held away game parties at The Aud Sports Bar in Depew and for the Jets game in October that season, Alyssa and Vincenza were on hand. Here they are trying out the DJ booth.
Alyssa and Vincenza