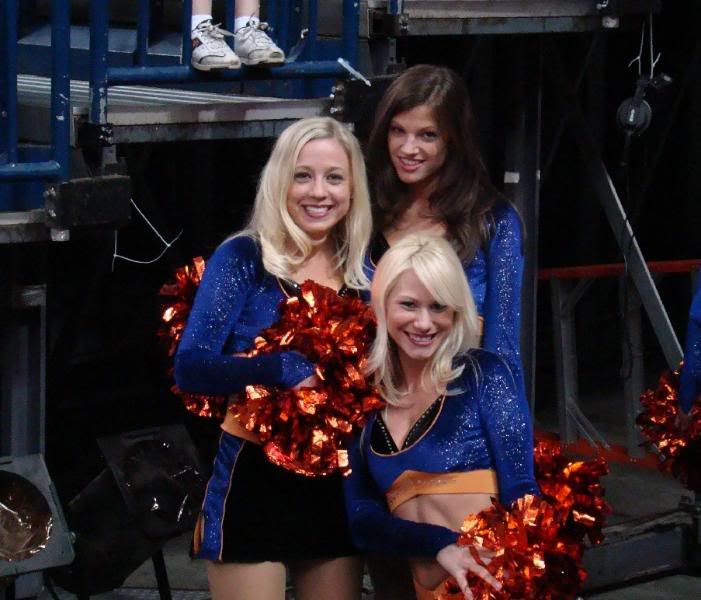 In HSBC Arena Saturday night, the Buffalo Bandits played host to the team that upset them in the 2006 Champions Cup Final, the Colorado Mammoth. After the Bandits' last game, a home loss against Toronto, they needed some help and got it in the form of Kevin Dostie, back after missing 6 games with a high ankle sprain as well as Mike Accursi, a former Bandit from the 2000-2004 seasons reacquired at the trade deadline in a trade for asst. captain Dan Teat. Even with the help, it was a hard-fought game that the Bandits, with the help of finally-healthy goalie Mike Thompson, came out on top in with a score of 12-11.
The game wasn't all that was tight as the dance performances turned in all night by the Bandettes were solid as a rock. They started off the evening signing autographs for the fans from 6-7 and then proceeded to entertain the fans and stir up the crowd of 16,900 as seen in these pics and videos from the game.
http://s17.photobucket.com/albums/b87/bandettes/2008/Mammoth/
Coming up next, the Bandettes will have help cheering on the Bandits against the Chicago Shamrox on March 19th in the form of the Jr. Bandettes squad they've been working with all season long. With the Jr. Bandettes to work with, there won't be an autograph signing prior to the game but they'll still be putting on rousing dance performances all evening long. They'll be back signing autographs before the regular season finale on April 26th.