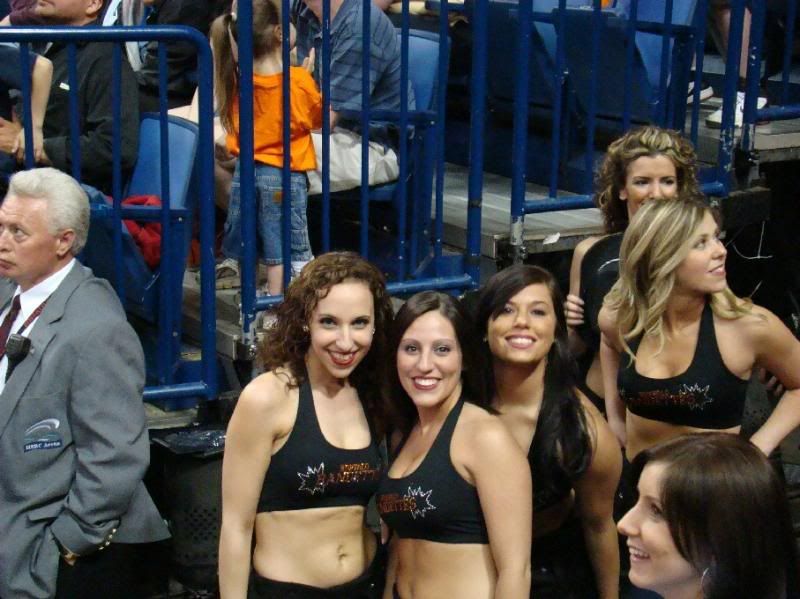 After a putrid performance on the road in Rochester last week, the Bandits returned home to the friendly confines of HSBC Arena looking to get back to their winning ways. The game started off much the same as that road loss, however, until Mike Accursi, in his 2nd stint with Buffalo, put in the 1st of his 4 goals on the night with less than a minute remaining in the 1st quarter. That lit the spark as the Bandits erased a 3-0 deficit and were up 11-5 by the end of the 3rd. Fan favorite Mark Steenhuis also pitched in 4 goals after his worst performance of the season the previous week and the hometown Bandits sent 13,633 fans home happy with a 13-9 win. The win, combined with a Calgary win over Toronto, which knocked the Rock out of the playoff hunt, clinched a spot in the playoffs for the Bandits.
It was a big night in other ways for a few dozen girls aged 7-17. All season long, the Buffalo Bandettes dance team have been preparing the Jr. Bandettes for this very night. The Jr. Bandettes got to watch the Bandettes perform up close in the tunnel during the 1st and 2nd quarters and joined them on the field for pregame and halftime performances. The Jr. Bandettes program, like the Jr. Jills program, is designed to broaden the horizons of girls who might want to pursue cheerleading and dancing on a scholastic, collegiate, or professional level by letting them learn from the pros as well as experience what its like to perform in front of thousands of fans.
Coming up next for the Bandettes is the Bandits regular season finale on April 26th against the Portland Lumberjax. Show up early and meet and get autographed posters of the Bandettes at the top of the east bank of escalators from 6-7 before the Bandettes take the field for pregame.
The Bandettes and Jr Bandettes pregame performance
Check out this video of the Bandettes and Jr Bandettes halftime performance.