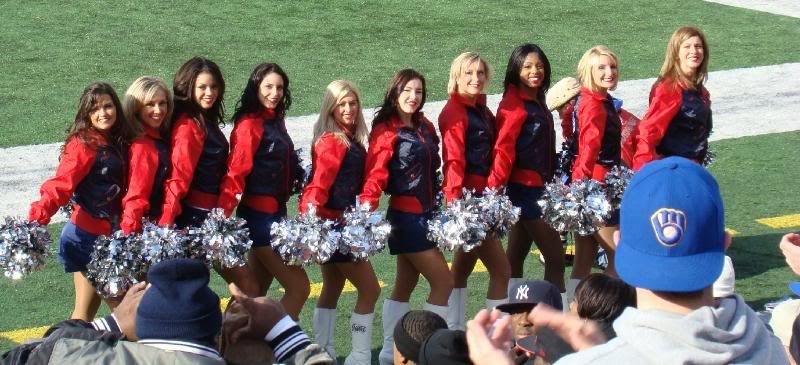 During the 1st quarter of the season, Bills QB Trent Edwards, played, for the most part, like an established veteran even with the lack of a complimentary running game. Over the 2nd quarter of the season, however, that lack helped expose the 2nd year passer, especially in the divisional games against Miami and the Jets. The lack of the running game has allowed the opposing defenses to tee off on the young QB and force him into making turnovers bad decisions with the ball. This Sunday, for the 1st time in his career, Brett Favre left Buffalo in a good mood because he didn't come out on the losing end of the game despite the fact that the crowd was in a frenzy most of the day.
But this site is less about the games than it is about the beauties who cheer on the Buffalo sports teams. Prior to the game, you could find members of the Ambassador Squad at tailgate parties put on by 97Rock and 103.3 The Edge selling and signing calendars as well as posing for pictures with the fans. You could even purchase prints of yourself posing with Keisha, Laura, Vincenza, and Brandi at the 103.3 The Edge tailgate party. Inside the Fieldhouse, while the official pregame show was being broadcast, Danielle and Liz took photos with dozens of fans as well before spending the day escorting Billy Buffalo around the field. Following a rousing pregame performance that followed the game ball delivery by 3rd year vet Christina, the dance squads, led by captains Omarlla, Jamie, and Nicole then took to the sidelines to help keep the crowd going loud from the opening kickoff until late in the game.
Next up for the Jills, Danielle, Valerie, Lisa, Lynn, and Alecia will be guest bartending at Bayou on Chippewa on Friday night. Half of all the money taken at the door goes to help fund the 2009 Calendar shoot trip. Bayou is one of the hottest clubs in Buffalo and it will be even hotter with Buffalo Jills as guest bartenders.
On Sunday, you can find some of the Jills at a pair of away game parties. A pair of them will be at Rhino's in Orchard Park for the 1st half of the Bills-Patriots game with the 103.3 The Edge Away game party while Mix 104.1 is sponsoring an away game party at Hearthstone Manor in Depew as a fundraiser for the American Cancer Society.
The Jills next return to the Ralph on November 17th as the Bills play host to their Lake Erie rivals, the Cleveland Browns on Monday Night Football.
Also, clear your calendars for the night of January 16th as the Jills will be invading Club Paradise for their Adult Comedy Show. More details will become available in the next few months.