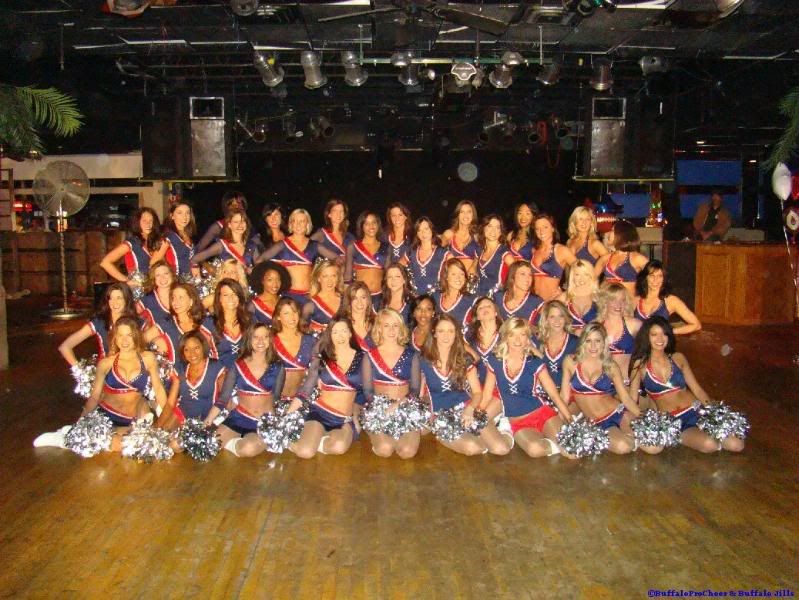 From late March thru mid-April, the focus of the Jills was in putting together the 2009 Buffalo Jills squad to cheer on the Bills in their 50th season of existence. Over 100 girls put in long hours of hard work to make the squad and out of them, 37 girls were selected to join the 8 preselected captains on the sidelines of Ralph Wilson Stadium this fall. For those 45 young women, the hard work continues as they've been preparing for the last month and will contnue to prepare all summer long to get ready for the 2009 NFL Season that kicks off in Canton, Ohio in August at the Hall of Fame game featuring the Buffalo Bills and the Tennessee Titans.
To introduce the 2009 squad to the public, the Buffalo Jills invaded Club Paradise in Blasdell, NY, only 8 minutes from Ralph Wilson Stadium for their annual Congratulatory Party. The party not only allowed the public to meet the Jills squad, but gave the Jills themselves a chance to celebrate their accomplishment of making the squad with family and friends. This year's party included a chinese raffle, a 50-50 drawing, and 3 separate dance routines put on by the Jills dancers. Taking the stage to announce the event was honorary Buffalo Jill Lydia, the host of Buffalo's CW23 TV station, WNLO.
Coming up next, the Jills are heading to the Bahamas for the annual Swimsuit Calendar Shoot Cruise and when they return, some of them will be at Buck's Motorsports in Akron, NY on May 30th to sign autographs, pose for pictures, and wash cars and motorcycles in a benefit for Mercy Flight from noon to 5pm.
After that, some of the squad will be at the Buffalo Convention Center on June 13th for the 2nd Annual Buffalo's Biggest 80's Bash posing for pictures, signig autographs, and putting on a big 80s style routine. Don't forget to visit the Taste Of Buffalo this summer as some of the Jills will be spending the mid-afternoon at the 97Rock and 103.3 The Edge booths meeting the fans.
Finally, if you haven't put in for vacation for July 20th, it's not too late to do so as Fox Valley Country Club in Lancaster, NY plays host to the 7th Annual Buffalo Jills Golf Tournament. $125 a golfer includes lunch, dinner, 18 holes, a golf cart, and entertainment. Prizes and a cash bar are also available for your convenience.
Also, stay tuned to CW23 as they prepare to air a mini-series of videos showing a behind-the-scenes look at Buffalo Jills tryouts. If you can't get Buffalo's CW23, keep an eye on
http://www.cw23.com/
where you'll be able to get to see those same videos online.
Stay tuned to the Buffalo Pro Cheer Blog and BuffaloJills.net for future information on the 2009-2010 Buffalo Jills!