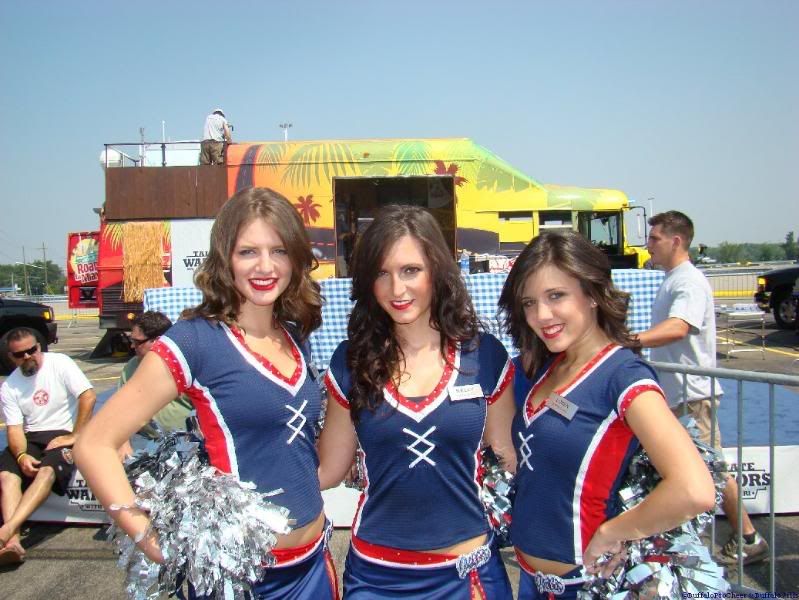 After what seemed almost like a home weekend in Canton last week, it was time for the Bills and Jills to return to Ralph Wilson Stadium for an actual home game against the Chicago Bears. This game, played Saturday night, held a few special aspects to it. For 1 thing, it was the 9th Annual Kid's Day game which included a large dance performance in pregame by not only the Jills, but the Jr Jills as well, a large group of young ladies that the Jills have worked with a lot over the summer. In addition, the Kid's Day game includes a small carnival of sorts in Lot C prior to the game, including appearances by the Buffalo Jills.
Whiile the Kid's Day activities are an annual thing, there was also an extra special feature to the day as Guy Fieri, host of Food Network's Diners, Drive-Ins, and Dives, shot an all-day special on something that Buffalo is best known for...tailgating! Lot 1 regulars Pinto Ron, Conkiln's Bar N Grill, and the Coffin Corner crew spent the day in Lot C with Bears tailgaters from the Windy City, Jay The Tailgating Guy, Commissioner of Tailgating Joe Cahn, the Food Network, and of course, the Buffalo Jills. Besides meeting and greeting fans and tailgaters, the Jills helped with the production and 3 rookies, Kelly, Loren, and Alyssa, an Ambassador, even put together an impromptu cheer for the CBNG tailgate.
After all that, it was time for the game and the Bills put on an exciting performance for the home crowd even without star WR Terrell Owens. The offense was electric, efficient, and fast-paced while the defense seemed to specialize in thievery with 5 takeaways, including 2 interceptions from 7th round draft pick Ellis Lankster. The excitement wasn't restricted, however as, in addition to seeing Amanda and Lindsay accompanying Billy Buffalo around the stadium, fans got to see the Jills perform at a high level all evening long.
They'll also be appearing at 97Rock Cruise Nights at Quaker Steak and Lube in Williamsville on Thurday nights as well as at Artpark on the 25th for a Peter Frampton Concert.
Finally, the Buffalo Sports Day event at Holland Speedway that was scheduled for July 25th but was rained out, is rescheduled for August 29th and the Jills will be back at the Ralph for the preseason finale against the Detroit Lions on September 3rd.