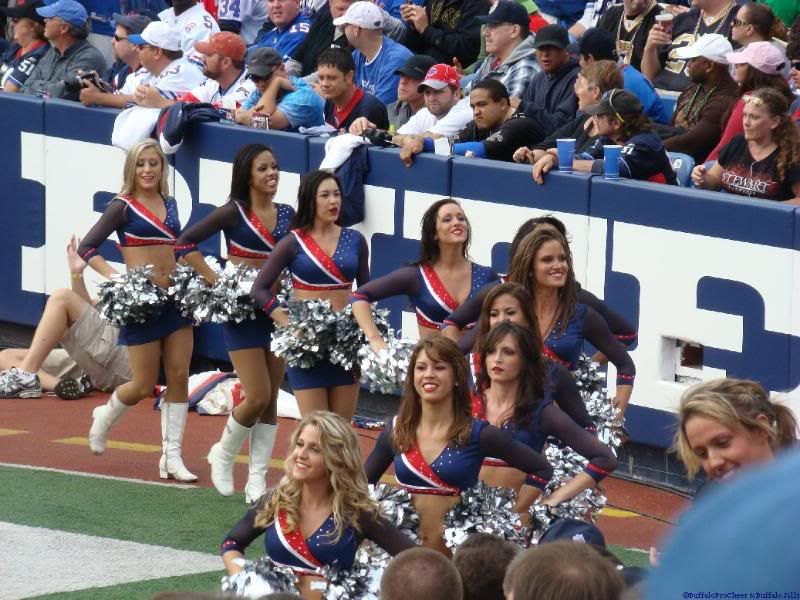 After last week's win over the Tampa Bay Buccaneers, Bills Nation was hoping to shock the NFL world by stifling the high-flying offense of the New Orleans Saints. The defense did their part for most of the game holding Drew Brees and the Saints to 10 points going into the 4th quarter. Unfortunately, the offense was shut out in the 27-7 loss with the Bills' only points coming off a fake FG pass from Brian Moorman to Ryan Denney. The Bills not only lost the game, but some players to injury as well and fans can only hope the addition of Marshawn Lynch, coming off a 3-game suspension, will help the struggling team somehow even though RB Fred Jackson has continued to impress fans and opponents alike.
Thankfully, not everyone struggled on the Buffalo side of the game as the Buffalo Jills, fresh off their Calendar Release Party the night before, put in strong performances all day long. The 97Rock Tailgate on Radio Row was the place to find Ambassador Squad Captain Keisha along with fellow ambassadors Lindsay, Courteney, Alyssa, and Kelly Ann. Just a few spots away, you could find Laura, Ruby, Nicole L, Katy, and Kristen at the 103.3 The Edge Tailgate party. At both parties, you could get your photos taken with the Jills and get your 2009-10 Buffalo Jills Swimsuit Calendars purchased and autographed. Inside the Fieldhouse, Amanda and Heather participated in some Family Feud with quizmaster Dennis George before heading out onto the field to escort Billy Buffalo and participate in many of the promotions the Bills held during timeouts for the fans.
But before the game could take place, they had to have a ball to play with and it was up to 10-year veteran Eileen to deliver that before the Jills took the field to perform for the fans before welcoming the Buffalo Bills. Another Buffalo Jill had a big day as well. 3rd year vet Vincenza, last year's calendar covergirl and a 2-year member of the Ambassador Squad, joined the dance squad this year and got on the sidelines for this game. While she performed at the Hall of Fame game and at the Kid's Day Preseason game, this was her first regular season dance performance and she did an outstanding job anchoring one end of Omarlla's line.