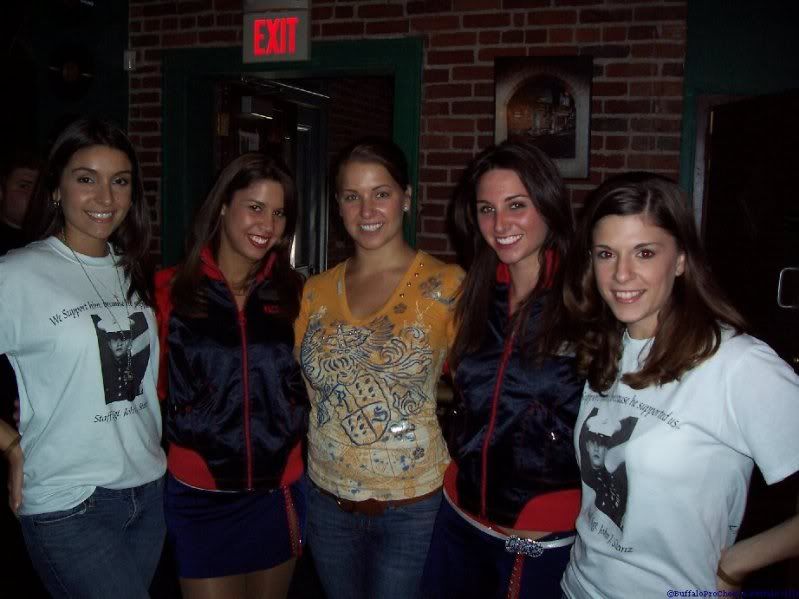 Frequently, the Jills are asked to appear at various charitable events in which they greet the attendees, sell raffle tickets, and sign autographs. Today in Jamestown, NY was one of those such events. Shawbucks bar was the scene where a benefit is being held today for Staff Sgt John J Stanz of the US Marine Corps. Last month, the young man was critically injured by an improvised explosive device while serving in Afghanistan and is currently surviving in a coma in the Naval Hospital in Bethesda, MD. A number of live bands are performing throughout the course of the day at the event with a $10 cover charge that goes to the family and the recovery of the injured Marine. His parents, owners of their own business, are at his bedside currently to be there for when he awakes by the medically induced coma. On hand for this event were not only 3 current Jills, but 3 more Jills alumni lending their support. Joining the pretty full barload of patrons were Murissa, Kaitlin, and Ruby (who helped organize the whole event) and former Jills twins Jill R and Joy (2007) and Dominica (2005).
http://s15.photobucket.com/albums/a375/buffalojills2005/2009/Stanz%20Benefit/
The Jills are still keeping very busy with the Bills opening up the season on the road with a pep rally at Fountain Plaza Monday at noon and an appearance in Fort Erie for MNF. Also, don't forget about the Edge Away Game parties being held this season at the Aud Sports Bar in Depew. I can tell you from first hand experience that last year's Away game parties are worth attending and the new location this year should only improve the experience.
The Jills next return to the field at Ralph Wilson Stadium one week from today as the Bills host the Tampa Bay Buccaneers in their first ever regular season appearance at Ralph Wilson Stadium. The only time that the Buccaneers have played in Western NY prior to this was a preseason matchup in 1977! Besides seeing the dancers onfield just prior to and during the game, you can meet the Jills Ambassador Squad in the Fieldhouse and at the 97Rock and 103.3 The Edge Tailgate parties prior to the game where you can pick up your Buffalo Jills Swimsuit Calendars if you haven't already. And if you have, you can still get it signed by Buffalo's Beauties.