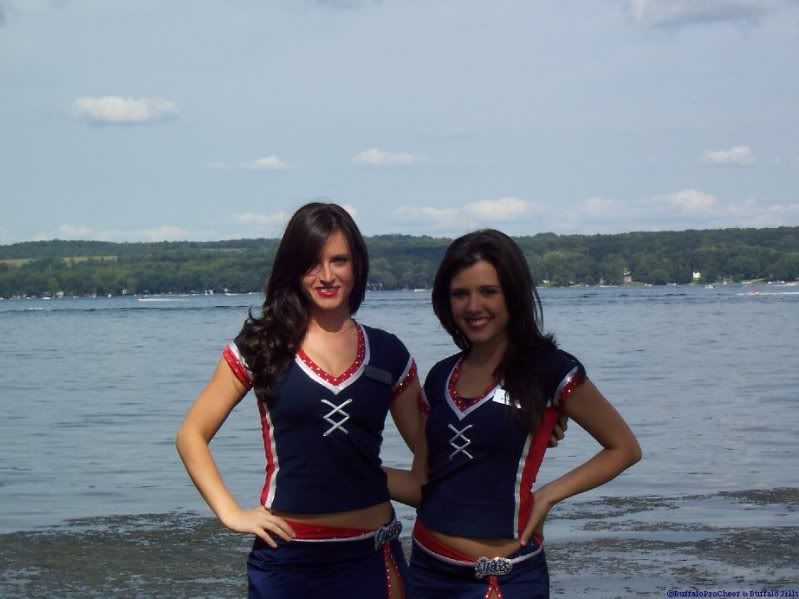 Obviously everyone knows about the Jills cheering on the Bills and their large popular events. But not everyone realizes how in demand they are for smaller events and appearances as well. Mayville, NY, on the shores of Chautauqua Lake, is holding a Labor Day Festival this weekend before a large fireworks show in the evening that will be seen not only throughout the region but from the International Space Station as well! Various communities around Chautauqua Lake are coordinating the pyrotechnics displays through local radio station SE93. Mayville went a step further than other communities though as Jills rookies Kelly and Loren were on hand in the afternoon to sign autographs and pose for pictures with the festival's attendees.
The Jills are staying plenty busy before returning to the Ralph for the Bills Home Opener on the 20th with appearances in Clarence's Labor Day parade, at 97Rock's weekly car show in Williamsville, at Bada Bing for the Blondes Vs Brunettes draft party, and Septemberfest at Merritt Estate Winery just to name a few in the next week! Stay tuned to
http://buffalojills.net/appearances/index.php
and the Buffalo Pro Cheer Blog for the info on many upcoming Jills appearances.