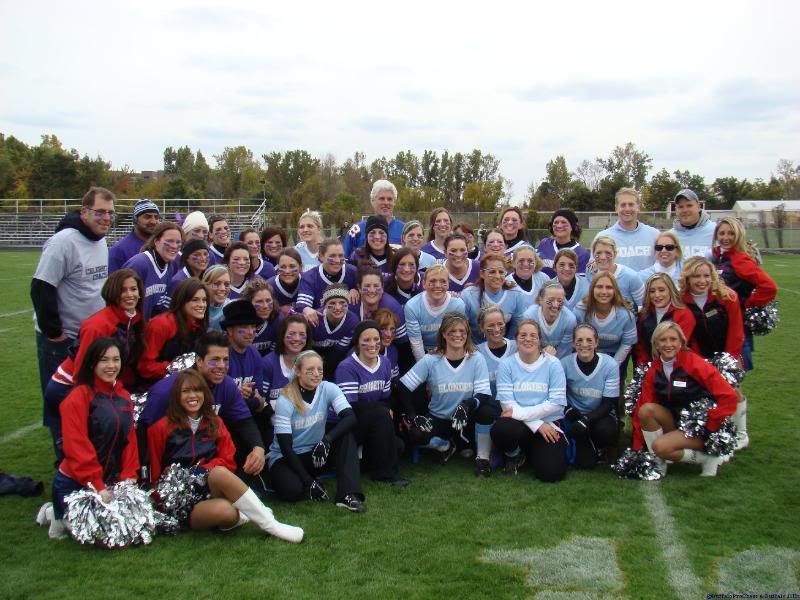 The Blondes Vs Brunettes Game is held in various cities across the nation, with its roots in Washington DC. The purpose of the event is a fundraiser for the Alzheimer Association and features a powderpuff flag football game between 2 sets of women. In Buffalo, the 1st annual game was held at Amherst's Sweet Home High School on Saturday afternoon and featured more intensity than local fans have seen on the pro level in a few weeks. Both squads, coached by fitness trainers at Gold's Gym, played hard from start to finish in a game that ended on a 12-12 tie.
The Buffalo Jills themselves were a big part of this event as well with 4 blondes, Christina, Jackie, Jennifer, and Lynn cheering on their team and Katie, Lisa, Murissa, and Gabrielle cheering on the brunettes. The Jills cheered on the sidelines as well as spent some time signing autographs, posing for pictures, and selling raffle tickets. Of course with 8 talented and beautiful dancers, they weren't going to get away without performing as well and they put on a halftime performance for the few hundred fans in attendance.
There was another way the Jills contributed as well, though. Jills director Stephanie M played at OL in the 1st half, drawing complaints from the blondes for her aggressive blocking style. Her blocking served the brunettes well as she delivered a key block on a reverse play for a touchdown by former Buffalo Jill Danielle H (1998-2002). The 2nd half saw Steph at WR playing decoy and drawing tight coverage from opposing defenders allowing her teammates to get open. In the end, the 12-12 tie showed how tightly contested this game was. A game that was supposed to be a flag football game featured a few tackles here and there as the intensity level rose as the game went on. Danielle won the Brunettes' MVP award as she made another big play on a reverse late in the game in addition to her TD run.
Afterwards, both teams retired to Average Joe's Sports Bar for a victory party to collect awards, eat, drink, and even got shots bought for them by the game's referees. Maybe NFL referees would get thought of better if they did that for the league's players...just a thought.
We also had 1 more Jills sighting as former Jill Francine P (2000-02) made an appearance for the game and victory party as well, still looking like she could grab a set of pom-poms and fit right in on the sidelines alongside the 2009-10 Buffalo Jills.
Check out the pics at
http://s15.photobucket.com/albums/a375/buffalojills2005/2009/BVB%20Game/
and check out a few media reports from the event at
http://www.wivb.com/dpp/news/local/Blondes_play_brunettes_at_powder_puff_20091017
&
http://www.wgrz.com/news/local/story.aspx?storyid=71129&catid=37
The Jills are going to be plenty busy today with 3 big appearances for the Bills game.
Meet a few of the Jills at the Aud Sports Bar and Grill in Depew for the Edge Away Game Party with wing and drink specials, halftime buffet, and James giving away prizes during commercial breaks and halftime.
http://www.wedg.com/Article.asp?id=872591
If you'd like a different atmosphere, check out Sole Restaurant where they feature the Jills behind the bar. Watch the game while getting a drink from one of Buffalo's most beautiful women? Sounds like a winning combination!
http://buffalojills.net/appearances/details.php?recordID=50
If you'd like to help out a worthy cause while watching the game, the Suneel's Light Foundation is holding a Tailgate For A Cure at Samuel's Grande Manor in Clarence in an event raising funds to fight Duchennes Muscular Dystrophy. With live music, a buffet, cash bar, Chinese auction, and an appearance by some of the Buffalo Jills as well with the game playing on the big screens.
http://www.suneelslight.org/html/tailgate2009.html