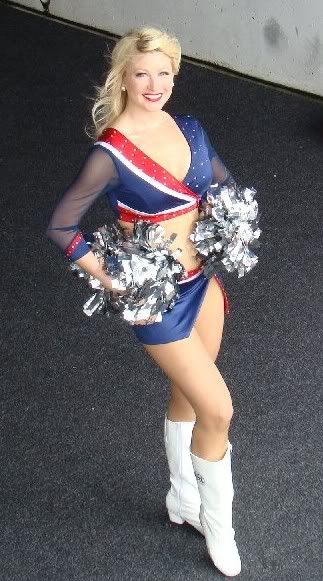 This week's Jill of The Week is no stranger to anyone who's paid any attention to the Jills this decade. Eileen is one of two Jills, along with Omarlla, who's been on the squad an incredible 10 seasons! Like Omarlla, she isn't slowing down either and is only getting better. She became a co-captain in 2006 and this year is her first as a full captain. Before any of that, though, she was named the Jills' Pro Bowler for the 2005 season and got a trip to Hawaii out of the deal. 2007 was another big year for Eileen as well as she was part of a group of 8 Jills to visit the troops in Iraq just before tryouts. But she wasn't finished with that as she took another trip with some squadmates to the Middle East in early August to visit troops in Afghanistan. Talk about picking up some serious airline miles! On the Afghanistan trip, she really showed her mettle as a leader as the ranking member of the Jills on that trip.
Eileen has been dancing since the age of 3, of course that's just studio work....she's probably been dancing since the womb. She's even danced in NYC, with some training from Broadway professionals. In fact, NYC was a destination for schooling for her for a while when she was looking at a career in fashion merchandising. Thankfully, she refocused towards Elementary Education and stayed here in WNY where she continues to make the fans smile with her dance moves, beauty, and personality. You can read more about Eileen at
http://buffalojills.net/roster/eileen.php
and for a special treat, check out the webgroup's files section this week for a look at her rookie bio. You can compare the two and see how much she's changed since then.