The Bills ended their 3-game losing skid on Sunday with a 16-13 OT win in the Meadowlands against the NY Jets and as much as fans across Western NY were complaining they were giving up on the season or even the team, you couldn't tell it from the attendance at the Edge Away Game Party at the Aud Sports Bar and Grill in Depew as the venue was standing room-only by the time the Bills kicked off to the Jets.
Once again, 103.3 The Edge is putting on Away Game parties for all the Bills road games and this year, the Aud Sports Bar is the place with 40-cent wings, Bud and Labatt specials, a halftime buffet, and James giving away prizes all game long. Also, like last year's parties, when the Bills score, you can put in an entry to win a TV...but they upgraded. Last year was a 42-inch flat screen while this year's screen comes in at 47 inches. The best part of the event is the company, though. Besides plenty of devoted Bills fans, a pair of Jills is there for a part of every game and this week, 3rd year vet Vincenza was joined by rookie Ambassador Alyssa as they watched the game with the fans, posed for pictures, signed autographs, and sold a few calendars as well.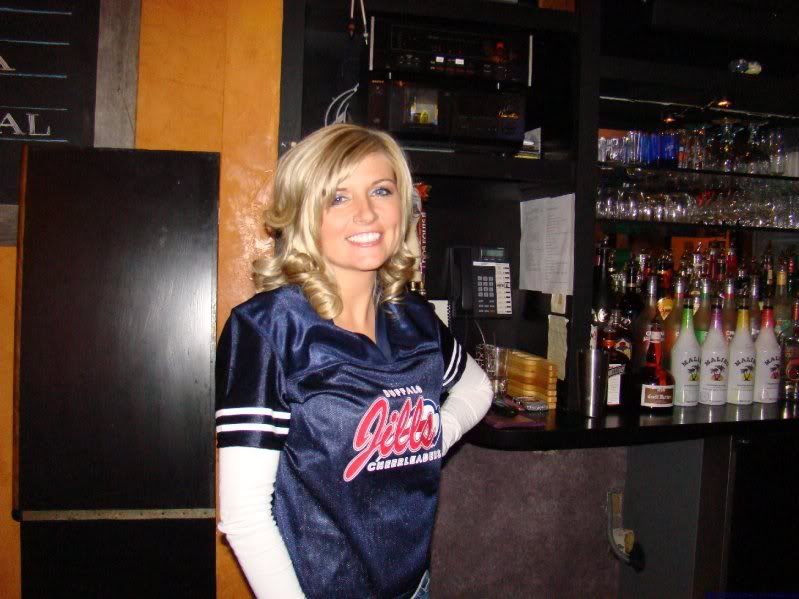 But maybe you'd like a more laid-back atmosphere to watch the game but still want some beautiful women around. Sole Restaurant in the Walker Center in Williamsville featured 3rd year vet Amanda behind the bar for the game and looking every bit as stunning behind the bar as she looks in uniform at the games.
http://s15.photobucket.com/albums/a375/buffalojills2005/2009/Jets-Road/
Next week, the Bills are on the road in Carolina so if you didn't make it out to the Aud or Sole this week, here's another chance right away with a 4:05 kickoff against the Panthers.
There's plenty more coming up as well before the Jills next take the field when the Bills play host to the Houston Texans on November 1st.
On October 26th, they'll be appearing at a Celebrity Wine-Tasting event for Brian Moorman's PUNT Foundation at Asbury Hall in Buffalo. Get all the details at
http://www.brianmoorman.org/wine_pairing09.php
On October 31st, you can meet some of the Jills as you bring the kids to Safe & Seen Halloween at ECC's North Campus in Williamsville. Get all the details at
http://www.safeandseenhalloween.com