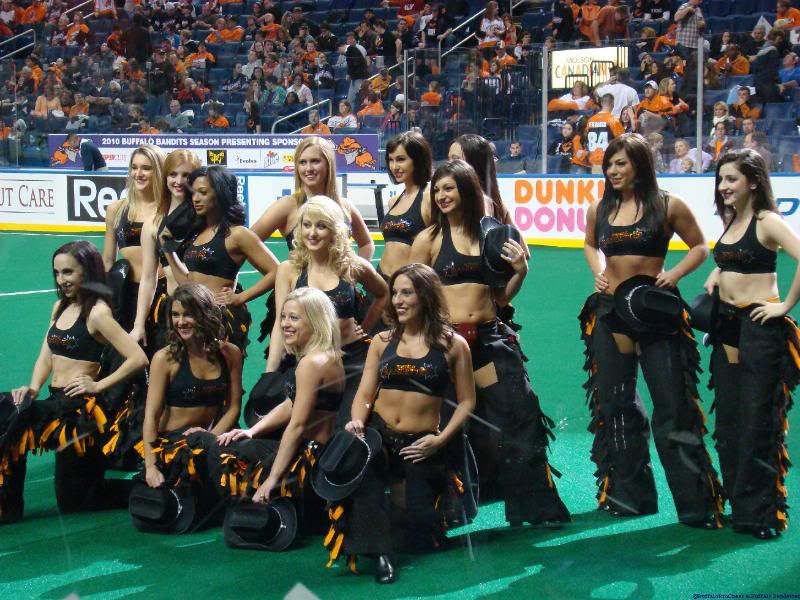 The Buffalo Bandits' NLL Season is getting off to a rough start this year with a 2nd straight loss to their Thruway rivals from Rochester. The lack of the NLL's greatest player was once again too much for the Bandits to overcome as the near-legendary Johnny Tavares sat out his 2nd straight game with a calf injury. Unlike last week's game down the Thruway, the Bandits were in it until the end and led for much of the game but without Tavares to take the pressure off other playmakers, the Bandits faltered in the end giving up 8 goals in the 2nd half while only putting up 5 of their own.
This night wasn't only about the game however as the 2010 Buffalo Bandettes got some game action of their own for the 1st time this season. When fans made their way up the escalators to the 100 level concourse, they were greeted by Justina's line on one side and Meghan's line on the other. Unfortunately, the Bandits had a band in the Bandettes' usual dance area during the game so they weren't able to perform during play but they did put on 4 outstanding performances in pregame and during intermissions as seen in the linked video. After the game, some of the squad participated in the Pearl Street post game party where fans could meet them and the players and get autographs and photos taken with them.
http://s17.photobucket.com/albums/b87/bandettes/2010/Knighthawks/
Coming up next, the Bandits are on the West Coast for a pair of games next weekend before returning home to HSBC Arena on January 30 as they play host to the Minnesota Swarm. Show up early for your chance to meet some of the Buffalo Bandettes before the game. The game starts at 7:30 with the gates opening at 6.