Even with the football season over for the Bills, the Buffalo Jills are staying plenty busy with appearances all the way up til just before tryouts. On Saturday, the Jills had a pair of appearances in Williamsville, NY that we have some photos from.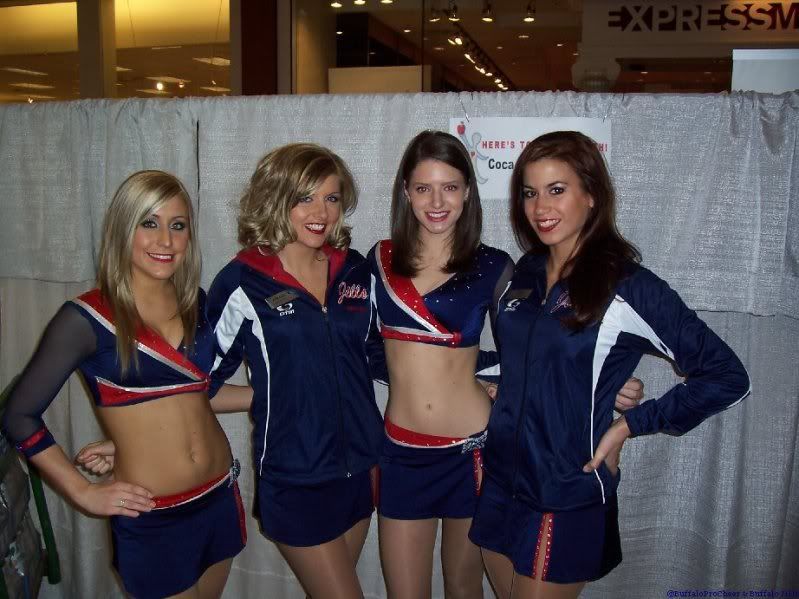 First up was an appearance at the Eastern Hills Mall as a part of the Here's To Your Health Expo. The Expo is an annual event and is designed to give area families important health information from local businesses and organizations. Several healthy living activities being presented included blood pressure screening, flu shots, martial arts and workout demonstrations. The Jills' part of this event was more than the usual posing for photos and signing autographs, although they did that as well. Besides being a model of what healthy and fit women generally aspire to look like, they worked with the Coca-Cola bottling company of Buffalo, NY handing out samples of Fuze Orange Blossom White Tea to mall shoppers from 10-4. A pair of our favorite beauties was there for each 2-hour shift starting with 2nd year vet Jackie and rookie Alyssa giving way to 3rd year vets Amanda and Lisa.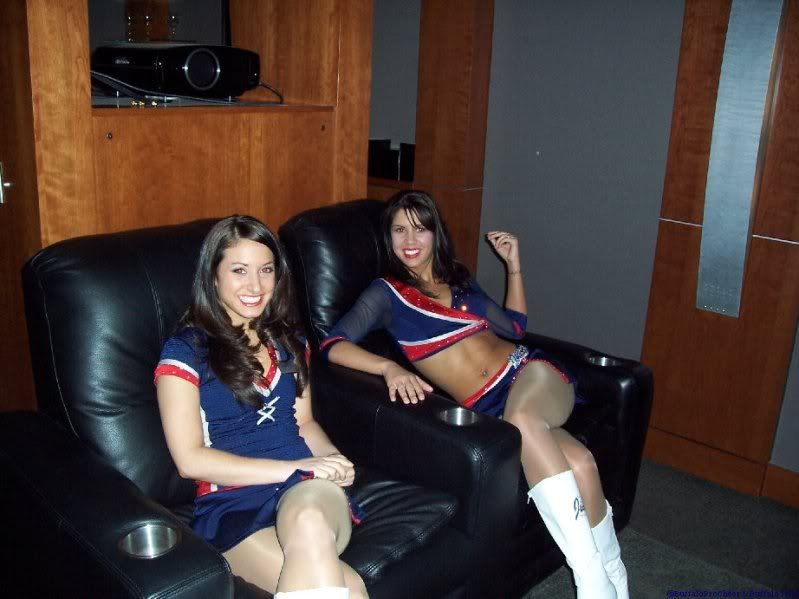 After some time spent with and photographing these beauties, it was on to Stereo Advantage where some more of the Jills were on hand to help promote their Football Theater systems. As part of the event, the Jills signed people up to win an autographed Paul Posluszny jersey at an event that included free food for shoppers and the chance to buy Buffalo football-themed t-shirts with proceeds from the sales going to the American Red Cross for the Haitian Relief Effort. On hand for the event when I arrived were 3rd year vet Angelina, 2nd year vet Murissa, and rookie Nicole. Also, after finishing her shift at the Health Expo, Alyssa put in a couple of hours here as well. In addition to what I previously said, the girls got to explore the store and check out the comfy theater that Stereo Advantage has on display with a large HD TV and big comfy seating. As seen here, Angelina and Murissa did just that, taking a moment to check it out for themselves, just so they could tell store patrons how luxurious it really was.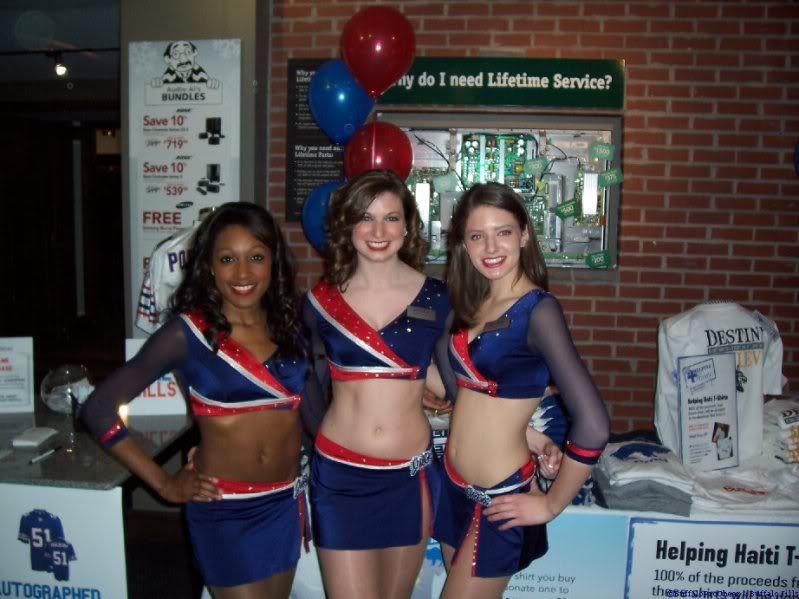 When 2pm arrived, it was sadly, the end of Murissa and Angelina's shift but on hand taking over was rookie ambassador Courteney, who just happens to be the Buffalo Pro Cheer Blog's very next Jill of The Week. With Alyssa, Nicole, and Courteney, we had the 3 rookie ambassadors who the Blog missed out on meeting at the Bills Season Ticket Holder Draft Day Party but all have become huge fans of the Blog since then, with Alyssa's family checking us out on a daily basis watching out for any mention of the pretty Alyssa. I think with her involved in 2 appearances on this day, they'll enjoy this write-up and likely enjoyed Nicole's Jill of The Week appearance last week almost as much considering how close the 2 are. We're sure Courteney and her husband are going to enjoy her Jill of The Week feature as well...she even asked to make sure I had plenty to write about her and rest assured, it'll be a full write-up.
After spending some time at Stereo Advantage these 5 beautiful ladies, I wanted to make sure the last shift of Jills at the Health Expo got some attention as well so it was back on the road to the Eastern Hills Mall where 3rd year vet Jessica and rookie ambassador Ruby were on hand, having taken over from Lisa and Amanda a little while earlier. In addition to handing out Fuze and posing for pictures, Jess and Ruby took a crack at Channel 2's prize wheel. WGRZ Channel 2's booth was set up to educate people about breast cancer. Check out all the photos at http://s15.photobucket.com/albums/a375/buffalojills2005/2009/012310/
There are plenty more appearances coming up soon and the 1st one is one you can check out from the comfort of your own home. Back in November, ABC's Extreme Makeover Homes Edition, with the aid of the City of Good Neighbors, put up a home for the Powell Family on the West Side. However, the people of Buffalo impressed the show's producers with their devotion to helping so much that they did more than just the home. They also made the entire neighborhood look better with various projects and the results will be seen tonight at 8pm ET on ABC. Throughout the entire process, members of the Buffalo Jills were on hand to lend their support for the project and players from the Buffalo Bills pitched in as well. Also, if you're in the Buffalo area, WKBW Channel 7 will be airing a special on the project starting at 7pm until the show airs at 8 so make sure to tune in or set your DVRs from 7-10 pm ET to ABC to see the whole event.
The next appearance, unfortunately, isn't the result of a feel-good story. Merge restaurant, which offers a large variety of menu choices to vegetarians, was the scene a little over a week ago for workplace violence that ended in tragedy. When the bullets from a dishwasher stopped flying, the restaurant's general manager, Rick Costner, was shot and his son Ricky Jr, a chef at the restaurant, lay mortally wounded. To help the Costner family in the wake of this tragedy, a fundraiser is being held at the Towne Ballroom on Main Street in Buffalo (same location as the 1st rd of Jills cuts last year) on Monday, January 25, at 6pm. The event will feature a silent auction, dart gift board, free food, great music, and a cash bar as well as appearances by several members of the Buffalo Jills.
There are a few more appearances coming up soon as well, starting with an appearance at the Tim Hortons at 3515 Seneca St. in West Seneca, NY celebrating the 25th anniversary of the restaurant chain founded by the former NHL star who spent his last 2 seasons as a member of the Buffalo Sabres.
Also, as many may recall, DFT Communications held a tailgate party outside of their Dunkirk location back in September a couple of days before the Bills season kicked off featuring members of the Buffalo Jills in attendance. DFT recently opened a new location in Jamestown, NY and will have some of the Jills on hand there as well on Saturday, January 30 from 1-4 at their Fluvanna Avenue location. For Southern Tier Jills fans who don't get to meet the Jills in Buffalo all that much, this is a great chance to meet 4 of the squad's beautiful ladies.
Also, don't forget to tune into the Pro Bowl next Sunday on ESPN. That will be the finish of a week for Jills Pro Bowler Christina as she'll be spending this next week in the Miami area getting ready for the game as well as participating in various events including a Battle of The Beauties Event on Friday, January 29th, at the Ocean Manor Resort Hotel in Fort Lauderdale from 2-6pm ET. Make sure to give Christina all your support if you're in the area. Details can be found at http://www.battleofthebeauties.net/