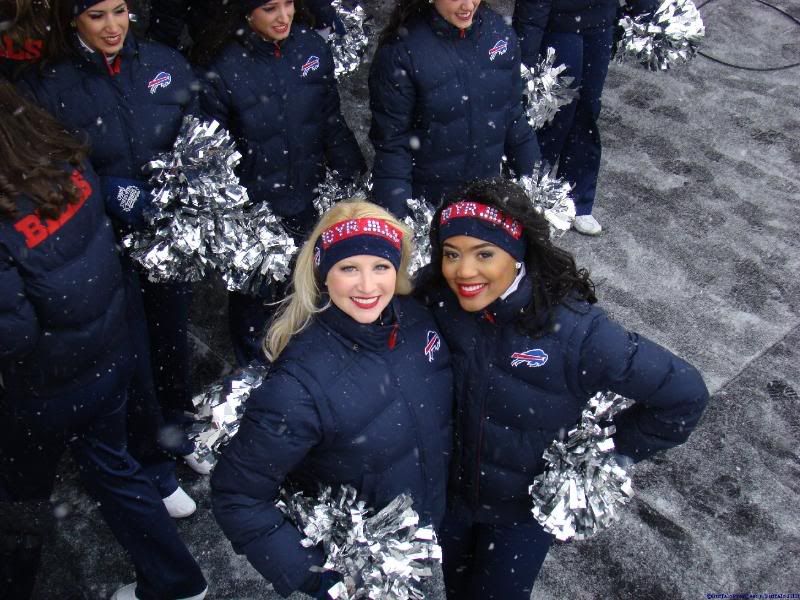 The 2009 Buffalo Bills season ended in fun fashion on Sunday as the Bills enjoyed a 30-7 win over the visiting Indianapolis Colts in a scene that looked like the interior of a snow globe. A sub-zero windchill and snowy conditions may have made the game hard to attend for some fans, but an announced crowd of 69,848 diehards braved the snow and cold to watch what was felt to be a meaningless game against many Colts backups for much of the game. Lost on the media and fans writing off the Bills' win as being against a group of backups is the fact that the Bills were mostly a group of backups as well, with 21 players on IR, including 8 players who opened the season as starters.
Besides the end of the season in a snow globe, this was a momentous day for a pair of Jills-related reasons as 1st, 4th year veteran and captain Christina delivered the game ball, her last game appearance for a few weeks, when she heads down to Miami as the Jills Pro Bowl representative. But in addition to that, a pair of Jills completed a record 10th season as squadmates as Captains Omarlla and Eileen were honored prior to the game.

Also prior to the game, several Jills Ambassadors could be found at the 97Rock and 103.3 The Edge Tailgate parties, including a trio who've already decided they won't be back in the fall, unfortunately. Inside the Fieldhouse, Keisha and Nicole got to enjoy some warmth before heading out into the snow and cold to join Billy Buffalo on some of his trips around the stadium.
http://s15.photobucket.com/albums/a375/buffalojills2005/2009/Colts/
Next up for the Jills, some of them will be hosting a cheerleading competition at Niagara County Community College on the 23rd, details of which can be found at  http://www.niagaracc.suny.edu/wfcd/camps.php
Christina will be spending the following week in South Florida however, as she spends the week getting ready to perform at the 2010 Pro Bowl, to be televised on ESPN at 7:30pm ET on January 31. Besides practicing the routines she'll be performing alongside the 25 other Pro Bowlers from around the NFL, she'll be making some appearances and participating in Battle of The Beauties, an event that features the ladies competing against one another as well as performing some routines for the fans and signing autographs. The competition will be very similar to the Beauties on The Beach Competition that Christina participated in following her rookie season alongside several of her squadmates. Get more info on this event at http://www.battleofthebeauties.net/