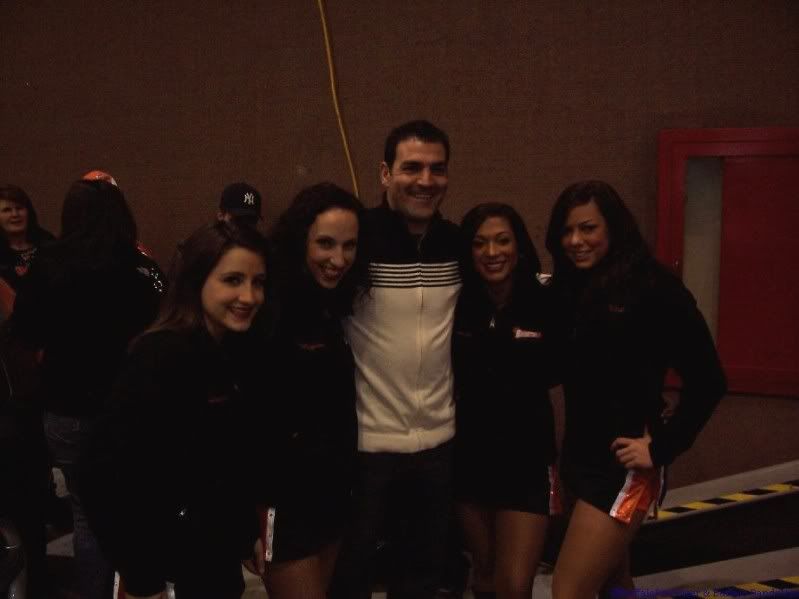 Even though we're only about halfway into February 2010, car companies are already starting to unveil some of their 2011 models at various auto shows across the nation. To bring in car enthusiasts and potential customers, the Buffalo Auto Show has special features at the Buffalo Convention Center each year. This year, just one of those features was a Sports Star day with appearances by former Bill Ruben Brown, former Sabres Rob Ray and Gilbert Perreault, and current Bandits superstar Johnny Tavares. With the Bandits star in attendance, it's only fitting if some of the Bandits dancers, the Bandettes, were in attendance as well. On hand for this event on Wednesday evening were Meghan, Amanda, Alexis, and Lauren B. They spent some time checking out some of the cars and posed in a few as well. After posing with some fans, they joined Tavares as he signed autographs and posed for pictures with the fans.
http://s17.photobucket.com/albums/b87/bandettes/2010/Auto%20Show/
If you missed seeing the Bandettes at Wednesday night's appearance, you can still see the Jills at the Buffalo Auto Show on Sunday as they help judge The Edge Tailgate Contest as 5 finalists compete to show off their best tailgate meal. Go to http://www.buffaloautoshow.com/ for all the info on the Buffalo Auto Show.
The Bandettes are next in action as they return to HSBC Arena on February 27 as the Bandits host the Philadelphia Wings, the same team the Bandits are visiting this Saturday night.