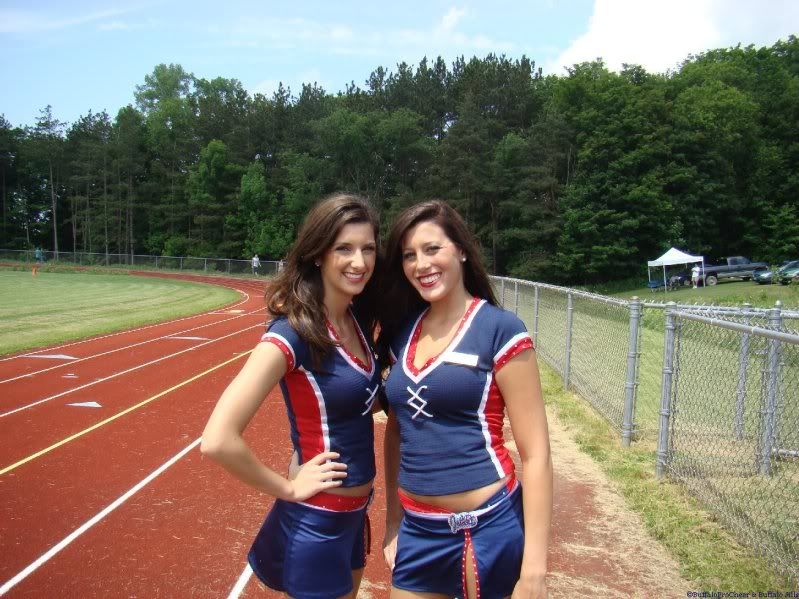 In addition to games and events, the Buffalo Jills are frequently called upon to do appearances at many other events throughout Western NY. On Saturday afternoon, the alumni of West Valley and Ellicottville Central Schools got together for a football game to raise funds for the youth football programs in both communities. To help with that effort, Lindsay and Jessica of the Buffalo Jills were on hand to sell programs and raffle tickets as well as pose for pictures and sign autographs for the fans.
Lindsay and Jessica posing with the Ellicottville Eagles Alumni Football team
See the rest of the pics at http://s15.photobucket.com/albums/a375/buffalojills2005/2010/Alumni%20Football/
The Jills are available for plenty of appearances like this and more. Just go to http://buffalojills.net/Article.asp?id=1676065 for all the info. Additionally, if you want extra publicity for any event that you have the Jills at, just contact us here at the Buffalo Pro Cheer Blog and after the info has been verified, we'll pass it along to the fans.
Coming up Friday, there will be some Jills on hand for the 2nd Annual BBQ and Blues Bash on Mississippi Street in Buffalo. Get all the details on the event benefiting the Gateway-Longview child and family service organization at http://www.bbqbluesbash.com/
Additionally, one of the people the girls spoke to inquired about programs for younger cheerleaders to learn from the pros. There are a few different programs the Jills are involved in in that regard. First up is the NCCC Cheerleading Camp taking place from July 11-15 with instruction from members of the Buffalo Jills on not only dance, but manners and etiquette as well. Camp fees are due by July 1. Check out the details at http://buffalojills.net/Article.asp?id=1780371&spid=34534
The Junior Jills program is coming up even sooner with the uniform fitting dates of June 15 and 17. The Jills will be working with the Jr Jills on 2 weekends getting them ready to perform at the Bengals-Bills preseason game on August 28th at Ralph Wilson Stadium as part of the Kid's Day festivities. Get all the details as well as the application at http://buffalojills.net/Article.asp?id=1672629