Sara J, Morgan, Valerie, Anna
After several years in Lancaster, the Jills moved their 8th Annual Golf Tournament to the Westwood Country Club in beautiful Williamsville, NY. Like in past years, it started off with some lunch while golfers registered and received their golf carts and bought some raffle tickets before heading out to the course for a round of golf on a beautiful day in Western NY. 5 groups had an extra benefit to their days as Amanda F, Meghan, Sara S, Taryn, and Brianne were auctioned off to be caddies for the day. Out on the course there were games like in past years including a poker run but there were also a few added treats on the course. 97Rock's DJ Jickster was out on the course playing music near the 11th tee with not only music, but a dunking booth. No, you couldn't dunk Jickster, but then again, he wouldn't look nearly as good in a bikini as Stefanie and Valerie did when they got dunked. Michelle and Jill, two of the most gymnastically gifted members of the squad also went around the course in their own golf cart performing "Flips For Tips," showing off their gymnastic skills for tips.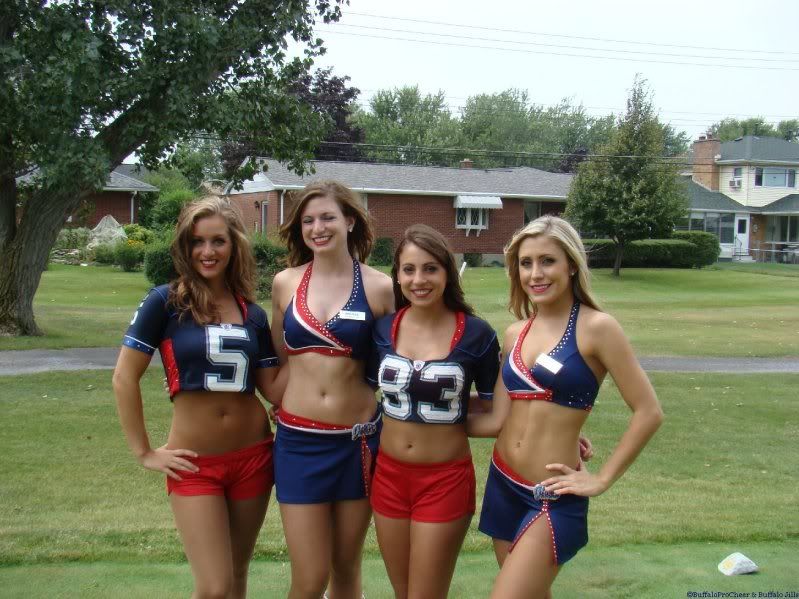 Michelle, Nicole, Jill, Jackie
Another feature this year was something more personal to one of the Jills. You see, one of the girls dealt with a housefire recently and rather then let her go through it on her own, her squadmates spent their Sunday evenings in front of hot ovens baking up brownies, cupcakes, and cookies to sell at the golf tournament for donations to help her out. The golfers came through in a pretty big way with some of them denoting some rather significant sums of money to help out one of the most beloved members of the squad, whose name I won't reveal here out of respect for her privacy.
Covergirls Meghan and Anna
At dinner, golfers got another special treat as they got to find out who was on the cover of the Jills 2010-2011 Calendar, due out later this month. This year, instead of having only 1 Buffalo Jill on the cover, the calendar will feature 2 girls, 3rd year vet and 2008 dance rookie of the year Anna and rookie dancer Meghan.
Next up, some of the Jills will be at Turning Stone Resort Championship in Verona, NY as a part of the Buffalo Bills' partnership with the tournament on Wednesday.
Also, don't forget the Bills are holding training camp thru the 24th at Pittsford's St John Fisher College and the Jills will be appearing at various practices including Saturday the 7th for Jr Bills Backers Day at camp.