The 2011 Buffalo Bandits season unfortunately came to a close Saturday night thanks to a porous defense, some key injuries, and a few questionable officiating calls/non-calls. The 6-0 lead put up by Toronto was closed up by the hometown Bandits after a goalie switch but they never fully recovered as they fell to the Rock by a score of 12-11.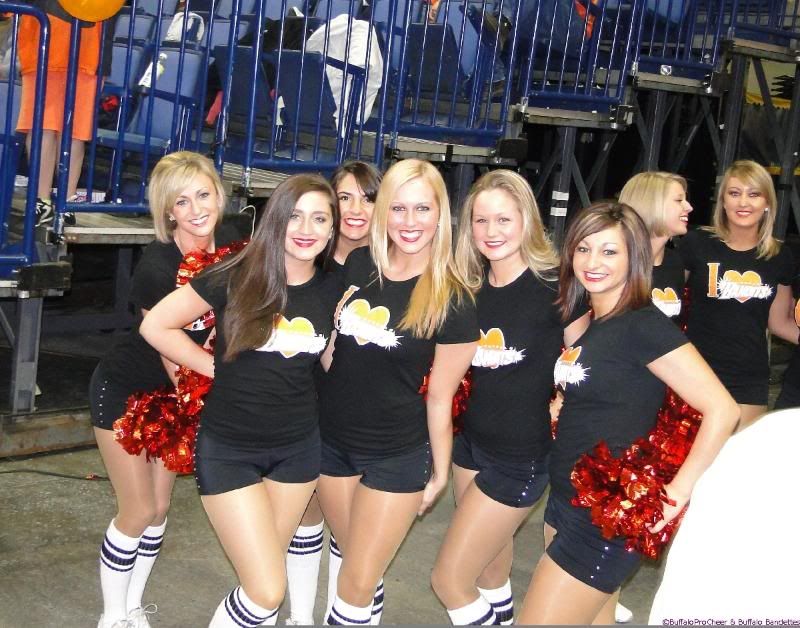 Danielle, Lauren B, Krista, Kirsten, Chrissy, Lauren S, Jessica M, and Chelsea
The Bandettes had an eventful season in 2011 and got to start it off by joining the Buffalo Jills for a major halftime performance in Toronto. After that performance which got 2nd year vet Lauren B more facetime on screen than anyone except Jills co-captain Loren (same name with a different spelling..can't be a coincidence that they got the most...at least Lauren doesn't it is...lol), they got to work on getting prepared for the 2011 Bandits season with 5 beautiful rookies joining a veteran squad with only 4 girls remaining from the 2008 Bandits Championship season hoping to be dancing all the way through another Championship.
Jessica M and Ashley at the postgame party
Coming up next for the Bandettes, we'll hope to see them at some appearances over the course of the next few months before tryouts for the 2012 squad take place in October. The 2012 squad already promises to be a younger one as, in addition to already-departed vets Melissa, Beth, and Justina, Jessica H and Lauren S are thinking about retirement due to schedule conflicts but we'll see when the time comes. 2009 rookie Kirsten could end up being the "old vet" of the squad in 2012...and she's still very young herself.