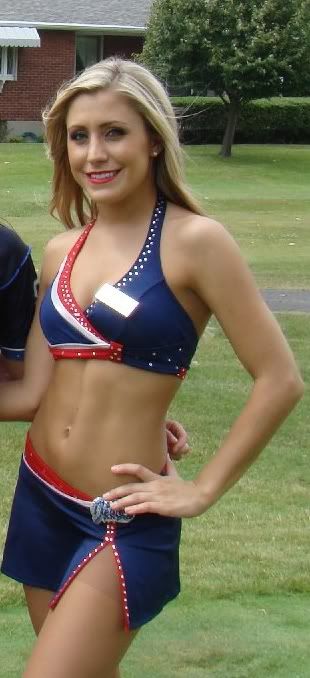 This week's Buffalo Jill of The Week starts off our cover models with blonde beauty Jackie. 3rd year vet Jackie had the back cover of the 2010-2011 Buffalo Jills Calendar with a very sexy shot and a front and back view with a mirror as part of the shot. After originally studying in bio-medical sciences, she switched to dental hygiene and is aiming to become an orthodontist. Most boys develop crushes on the orthodontist's assistants. With Jackie as the orthodontist, the assistants won't even get a second look. With her eyes and honey-sweet voice, she could do some serious oral surgery and not have to waste any Novocaine! But it obviously takes more than looks and a soft voice to become a great orthodontist and Jackie is well-known for her determination. If she sets a goal for herself to achieve, it would be extremely surprising if she doesn't achieve it.
Sadly, Jackie was an early departure from the 2010 Buffalo Jills and didn't return for 2011 either. Before leaving in midseason, she danced on Omarlla's line between Kristen and Angelina, finishing up a dancing career of 16 years, although we obviously hope she decides to return one of these days as well.
Jackie's secondary photo comes from the Jags game back in October. Prior to the games last season, some of the Jills dancers performed in Lot C. Shown posing for the camera just prior to the performance are Jackie, Anna, and Eileen.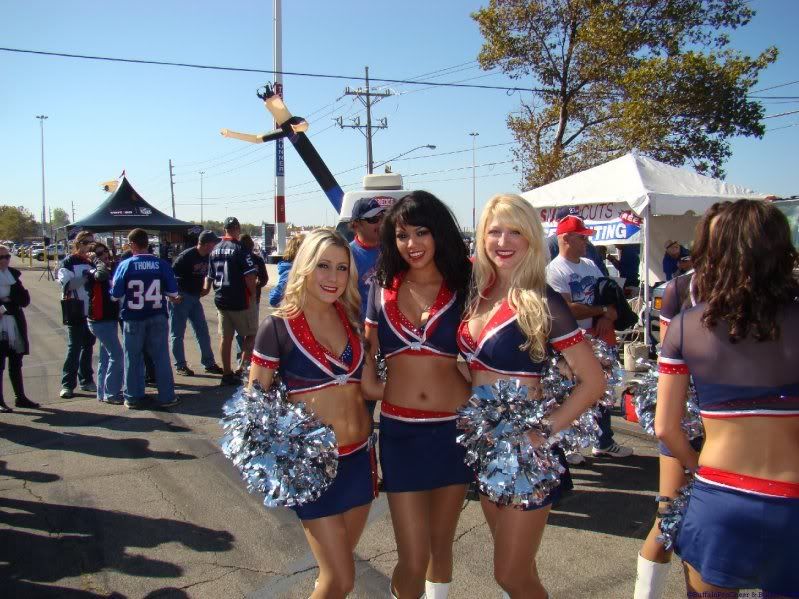 Like many vets, Jackie paired up with a friend for tryouts and in 2010, she and fellow 3rd year vet Murissa danced together like they had in 2009. They went with matching outfits for 2010 and both put on a great performance.

You can read more about Jackie at http://buffalojills.net/article.asp?id=1974013