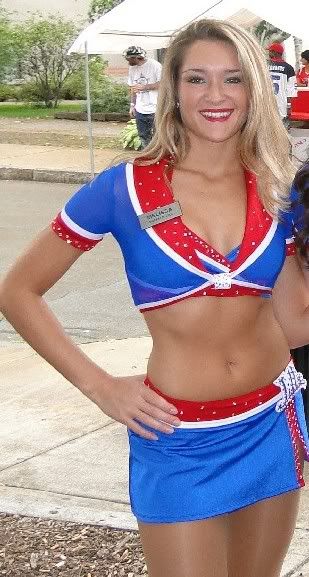 This week, we take a look at our other unconventional rookie as our Buffalo Jill of The Week. Melissa spent 6 1/2 seasons dancing as a Bandette with the last season as a captain after several as a co-captain. Spending her gamedays dancing on Valerie's line between Val and Loren, she's loving the experiences of being a Jill so far. As a matter of fact, it was working with the Jills last season in Toronto that got her thinking about trying it out. The last year has been a big one for her not only as far as the transition to the Jills, but in her personal life as well as she's now happily married to someone she's been with for several years. Brad not only has been there for her through her entire career but makes her and those around her laugh, something you need in every relationship. Besides the time she spends with her husband, nothing makes Melissa happier than when she's performing. When she's not performing, she's actually rather quiet , especially compared to most of her linemates like Valerie and Murissa. That doesn't mean she's shy or anything, though. One way she does express herself very well though is through writing. She started college as a communications major with an interest in reporting and even after she switched majors, she wrote some NLL Girl of The Week articles on her squadmates for NLL.com. You can read more about Melissa at
http://www.bandits.com/bbio.asp?bandID=Melissa
Melissa's secondary photo comes from the 9th Annual Buffalo Jills Golf Tournament and was taken before the golfers started arriving as everything was being set up for the day. Shown posing for a photo are Natalie, Melissa, and Jenny.
Natalie, Melissa, and Jenny
Don't forget to watch Melissa and Beth together at 1st cuts putting on a great performance. Bandits fans have seen how outstanding they are for years...now Bills fans get to see it as well.