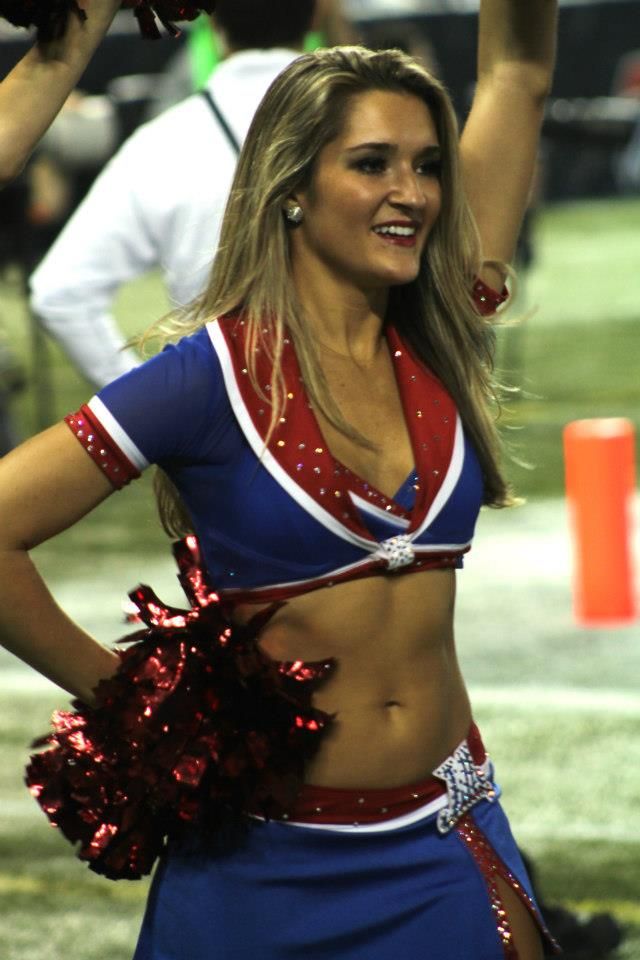 This week, we look at 2nd year vet Melissa as our Buffalo Jill of The Week. Melissa danced on Val's line between Nicole S and Alyssa U and, despite only being a 2nd year vet with the Jills, will have more experience performing in front of large crowds at professional level than anyone in Buffalo if she chooses to return in 2013. Nearly seven seasons as a key part of the Buffalo Bandettes dance team gave fans a look at her dancing talents but it wasn't until after she and the rest of the Bandettes performed with the Jills in Toronto that she thought about cheering in front of even larger crowds at Ralph Wilson Stadium. When most rookies try out, you always tend to wonder if they have what it takes or not and truthfully, at the Open Workshop that year, I did watch the former Bandettes out of the corner of my eye a lot to see how they were picking up the routine. But when you consider the Bandettes normally learn about 20 different performances a season, I had complete faith that Melissa could learn 1 in a week. You can read more about Melissa at
http://buffalojills.com/profile.php?PID=58
Melissa's secondary photo comes from the Bills-Titans game in October and was taken late in the 2nd quarter when Val's line was in front of section 121. Shown getting the crowd revved up are Krystin, Melissa, Lisa, and Kelsey H.
Meet Melissa in this short video shot at Jills 1st cuts back in April.
Don't miss Melissa performing alongside Nicole L at 1st cuts for the judges as they show off their dance moves together.
Finally, don't forget to my article on Pro Player Insiders where Melissa was named Buffalo Jill of The Month at
http://proplayerinsiders.com/buffalo-jill-of-the-month-melissa/