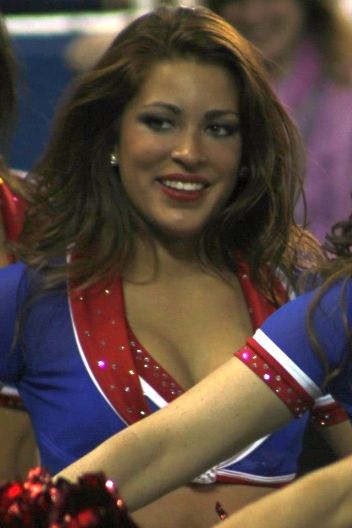 This week, we take a look at rookie dancer Kelsey H as our Buffalo Jill of The Week. Dancing on Valerie's line between Val and Jacki on gamedays, Kelsey is a future teacher with a focus in Spanish who loved her time on Val's line in 2012...and with those girls beside her, who can blame her? Like Kelsey of the Bandettes, profiled as Bandette of The Week last week, she hopes to own her own daycare center in the future. You can read more about Kelsey at
http://buffalojills.com/profile.php?PID=53
Kelsey's secondary photo comes from the preseason game against the Washington Redskins. Shown smiling for the camera as the squad was coming out for the second half are Kelsey H, Jacki, and Maria.
Kelsey H, Jacki, and Maria
Meet Kelsey in this short video from 1st cuts last spring with intro by Jills Choreographer Kelli Wagner
See Kelsey's dance moves in this video of her performance of the tryout routine at last year's 1st cuts.