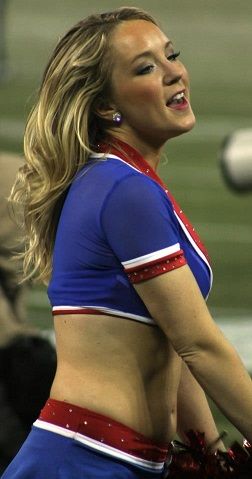 This week, we look at Lindsey C as our Buffalo Jill of The Week. Currently starting her 4th season on the Jills, Lindsey is beginning her 1st season as a co-captain. Her making the jump to co-captain should be no big surprise to anyone who knows her. Working at a local non-profit organization, her role is in fundraising and who could say no to her pretty smile? She's also regularly active with the Jacquie For All Foundation, an organization dedicated to helping fight Acute Lymphocytic Leukemia. To do all the fundraising she does, you have to be good at getting people to do things, which is a part of leadership, including being a cheerleading captain.You can read more about Lindsey at
http://buffalojills.com/profile.php?PID=84
Lindsey's secondary photo comes from the Bills-Seahawks game in Toronto courtesy of Pro Bowl Dan and taken in the 4th quarter. Shown performing for the crowd are Amanda, Loren, and Lindsey C.
Amanda, Loren, and Lindsey
Meet Lindsey in this short video shot at tryouts last April.
Besides being a knockout and a sweetheart, Lindsey is quite the dancer as seen in this video from last year's 1st cuts, where Lindsey is shown dancing alongside Jacki.