For the 1st time, the Buffalo Pro Cheer Blog followed a reality show pretty closely thanks to the fact that Buffalo Jills alum Katherine (2007-08) was one of the contestants along with her new husband. After a rough start to the race, Max and Katie had 1st place finishes the last two weeks going into last night's 2-hour finale. The 1st part of the finale, which took place in Scotland and Ireland, was promising as Max and Katie again finished 1st, setting themselves up nicely for their trip back to the States.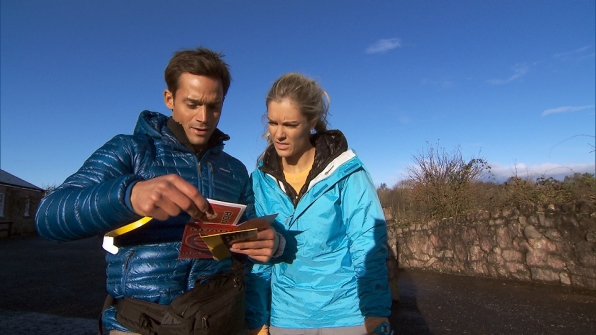 Had they finished the race in Europe, Max and Katie would be $1,000,000 richer but luck wasn't with them in the challenge at the Tidal Basin. After receiving a briefcase with their clue upon arrival, Max had to exchange the briefcase for another containing the next set of instructions. Unfortunately, he had to almost circle the entire Tidal Basin to find the man with their next instructions. Whereas most of the challenges along the entire race were dependent on skills, this one seemed to be all luck. The rest of the leg was spent trying to catch up and had they had another challenge or two, they likely would've won as they did seem to gain on the leaders and eventual winners, the Hockey brothers Bates and Anthony Battaglia.
They called into Winging It! Monday morning after the finale aired and the audio of the call is up online.