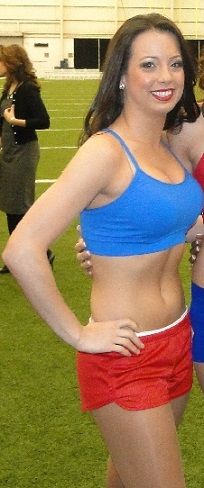 This week, we look at 2nd year vet Krystin as our Buffalo Jill of The Week. Anchoring one end of Val's line next to Alyssa U, Krystin is already a well-accomplished young lady with a Master's Degree in Physiology. When asked about her character traits for her bio, she does leave off a slightly smartass side as people can see in her bio with the answer to a later question. In her rookie season, she spent a lot of time with Murissa and there's a very strong chance Murissa rubbed off on her. One thing that Krystin definitely had going for her from the start was her poise and beauty. Over the years, there are a handful of girls who tried out for the Jills or Bandettes that I could tell, even while they were just learning, that they were too good not to make the squad. Krystin was one of them and has done a fantastic job of proving me right. You can read more about Krystin at
http://buffalojills.com/profile.php?PID=83
Krystin's secondary photo is from the Titans game back in October. In a photo taken while Val's line was moving from the sideline to the endzone, we see Melissa, Alyssa U, and Krystin.
Melissa, Alyssa U, and Krystin
Meet Krystin in this short video shot at Buffalo Jills tryouts last April.
As seen in her tryout performance from last April, Krystin's got more than brains and beauty as she showed off some great dance moves.
From the Bandettes comes a photo taken prior to the February game against the Toronto Rock. In 2013, the Bandettes started taking part in a pregame party at Cobblestone, selling raffle tickets and greeting the fans. Shown posing for a photo are LB, MaKenzie, Brianna N, and Kelsey.
LB, MaKenzie, Brianna N, and Kelsey