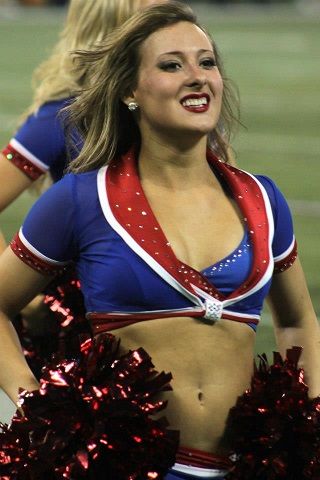 This week, we take a look at blonde beauty Alyssa K as our Buffalo Jill of The Week. Spending her rookie season dancing between Christina and Loren on Christina's line, Alyssa is originally from Long Island and is working towards becoming a lawyer. Unlike the last future lawyer on the Jills, Alyssa does plan to stay in the country after she finishes her schooling but she is still leaning towards moving back towards home to NYC. Nothing is set in stone on that though and as she's still got some time to go in law school. there's plenty of time to change her mind. Between the cost of living, the people, the memories, and the fact that pizza, her favorite food, from Buffalo is the best around, she has plenty to get her thinking about staying. Plus when you consider how much she enjoys the excitement of football games, Buffalo far surpasses what you'll find in NYC. You can read more about Alyssa in the files section of the webgroup (registration required). Alyssa's secondary photo comes from the Bills' preseason game against the Pittsburgh Steelers. This is a photo taken while the Jills were forming Stampede Row. In front, we see Lindsey C, Alyssa K, and Kayla while Kelsey H, Nicole S, and Myesha are behind them.
Lindsey C, Kelsey H, Alyssa K, Nicole S, Kayla, and Myesha
Meet Alyssa in this short video with commentary from Jills choreographer Kelli Wagner.
Check out Alyssa's dance moves in this video from last year's 1st cuts.
From the Bandettes comes a photo from the 2nd home game against the Philadelphia Wings held at the start of March. Kirsten's line was greeting fans as they came up the escalators to the 100 level. In this picture, one of the fans is posing with some of the girls. Of course this isn't a regular fan but 3-year Bandettes alum Jessica H. Shown posing are Danielle, Brianna A, Jessica H, Chelsea, and Lauren K.
Danielle, Brianna A, Jessica H, Chelsea, and Lauren K
Don't forget to visit the main page of the Buffalo Pro Cheer Blog to donate to one of the Jills alumni participating in the 5th Annual Blondes Vs Brunettes football game!