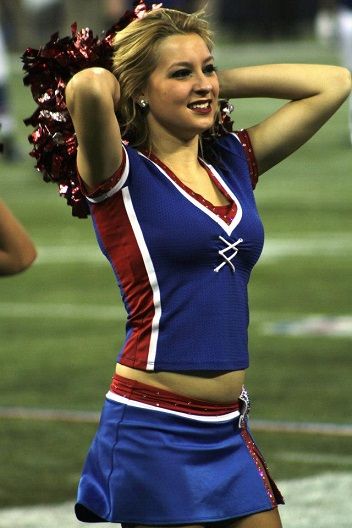 This week, we take a look at blonde bombshell Emmy as our Buffalo Jill of The Week. Dancing on Omarlla's line between Omarlla and Emily her rookie year, Emmy is a Canadian by birth and has only been in Buffalo for a couple of years now. When first looking at her bio, I almost did a double take as she shares a few notable similarities with her co-captain Emily. She's currently going to college majoring in dance like Emily did and also considers her little sister the best gift she's ever received. There's a lot more to her than that as seen in the way her high school thought of her. While most high school classes, at graduation, have a notable community member like a local politician give the commencement address, Emmy handled that for her own class. Obviously she had a more noteworthy high school career than even the valedictorian to garner such a responsibility. You can read more about Emmy at
http://buffalojills.com/profile.php?PID=64
Emmy's secondary photo comes from last September's 4th Annual Blondes Vs Brunettes Game. Shown posing for a photo with the balloons to be released are Emmy and Ashley.
Emmy and Ashley
Meet Emmy in this short video from last year's 1st cuts with commentary delivered by Kelli Wagner, the choreographer of the Buffalo Jills.
Also, check out Emmy's dance moves at last year's 1st cuts.
From the Bandettes comes a photo from the Wings game in March. Prior to heading out for their pregame performance, some of the Bandettes posed for photos. Shown posing in this shot are Jessica, Lauren K, and Kirsten.
Jessica, Lauren K, and Kirsten
Don't forget to visit the main page of the Buffalo Pro Cheer Blog to donate to one of the Jills alumni participating in the 5th Annual Blondes Vs Brunettes football game!