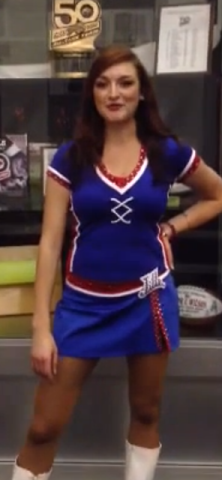 This week, we take a look at rookie Ambassador Jennifer G as our Buffalo Jill of The Week. California-educated, Jennifer has her MBA from UC-Berkeley in Urban Planning and is hoping to one day to help cities around the world host huge events like the Olympics. For now, I'm sure she would be a great asset in the development on Buffalo's Outer Harbor. With the talk of a possible new stadium for the Bills closer to the city once the current lease is up, maybe she'd be a big part of that planning as well once the Bills start doing a study on it. A Jill in 2013 could be working for the Bills in 2019 or sooner. Besides her career goals, she's also hoping to run a Tough Mudder one of these days and considering she keeps a workout calendar on her fridge, her only obstacle will be in finding the time. Unfortunately, I've yet to see her in the stadium or get a photo but you can find out more about her at
http://www.buffalojills.com/profile.php?PID=125
Our secondary photo, since we have yet to get any of Jennifer, is of Christina's line in the 4th quarter at the Bills-Jets game. They were getting set to dance to Shout!
Myesha, Kristina, Christina, Taylor, Hannah, and Megan
From the Bandettes comes a photo from the March game against the Edmonton Rush. Shown in a photo taken late in the 4th quarter are members of Kirsten's line. Seen are Stephanie, Kirsten, and Lauren K up front with Brianna A, Chrissy, and Danielle on the back line. See the Bandettes in action on December 7th as the Bandits and Wings face off in an Open Scrimmage at First Niagara Center!