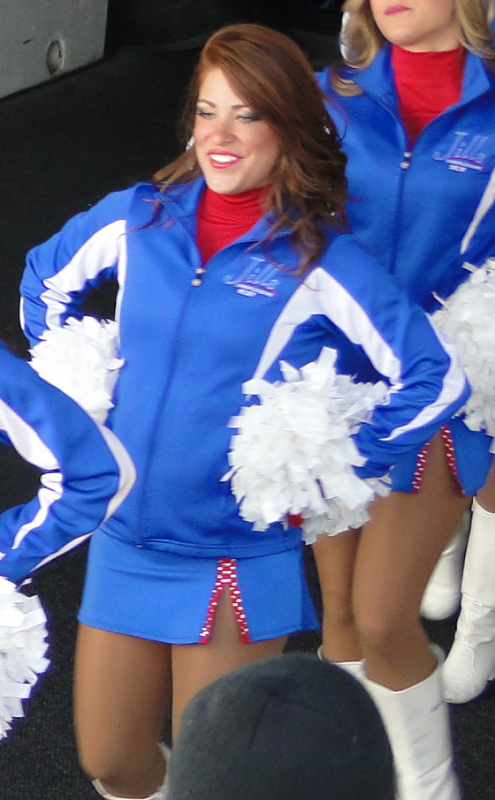 This week, we take a look at 2nd year vet Kelsey as our Buffalo Jill of The Week. This ravishing redhead dances on Lisa's line on gamedays between Allysha and Shelby G. A future Spanish teacher, Kelsey got to finish up her rookie season in a big way. For the Super Bowl, she represented the Jills alongside other NFL Cheerleaders at an event in Mexico! I wonder if many of the other NFL Cheerleaders handled the language barrier as well as Kelsey must have. It's somewhat fitting that Veteran's Day falls this week while she's reigning as our Buffalo Jill of The Week. She's not a veteran herself but she has a brother and a sister both in the service right now. As proud as she is of them, one would think they must each be pretty proud of her as well. In addition to performing at the highest level, in the NFL, she made Dean's list all throughout college.See all of Kelsey's pics at
https://buffaloprocheerbuffalojills.shutterfly.com/jillsindividualpics/56465
Kelsey's secondary photo comes from the Bills-Ravens game. Shown coming off the field at the end of the game are Katie B, Shelby G, and Kelsey.
Katie B, Shelby G, and Kelsey
From the Bandettes comes a photo from the Bandits Open Practice held last December. Shown posing for the camera are LB, MaKenzie, and Lauren K. You can see these three ladies along with the rest of the 2014 Buffalo Bandettes performing at the Bandits Open Practice on December 7th at the Bandits Open Scrimmage vs the Philadelphia Wings at First Niagara Center!
L.B., MaKenzie, and Lauren K