With the end of the 2013-14 Buffalo Jill of The Week series, we take a look back at photos from Jills events/appearances from the past. Obviously with no Jills season in 2014, we'll keep this series going through the football season, only stopping for the 2015 Bandettes season who, as things stand now, will get our full focus during the season. Last summer, we covered the 2005 and 2006 Jills seasons so we'll start off this series with the 2007 Buffalo Jills.
We start off with a look back at the 2007 Buffalo Jills Open Workshop, held at the Niagara Falls Conference and Event Center. This workshop was different than most as Jills Choreographer Kelli Wagner was unavailable to teach the tryout routine. The reason for this is because she was accompanying 8 of the 2006-07 Buffalo Jills on a troop visit tour in Iraq and Kuwait, the only NFL Cheerleading squad to make that trip. Joining Kelli on that trip were Eileen, Jamie, Natale, Katie, Autumn, Emily, Stefanie, and Jenica. Before leaving for Iraq, Kelli had gone over the routine with Aimee and Omarlla, the two captains not making the trip overseas.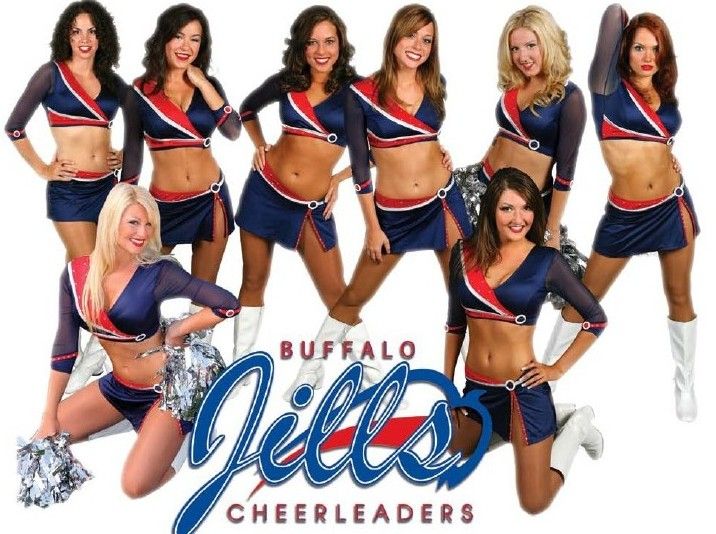 Jills in Iraq
Aimee and Omarlla teaching the routine
Jessica Z, Kaitlin B, and Valerie returning for a 2nd season together
Before and after the girls learned the routines, I grabbed a few photos. A pair of alumnae made an appearance and there were a number of girls there trying out who, though they didn't make the squad in 2007, returned to make it in future years like Ruby (2009-12), Amelina (2008) and Holly (2008). There were also a lot of girls who tried out that year that, after not making it, never tried again and that's truly a shame because they may have made the squad in a later year and even gone on to have a remarkable career like Lisa did, who only just retired after making the 2007 squad...after missing the cut in 2006.
Ruby (2009-12) and Dominica (2005)
Melissa returning after a season off reconnecting with Kaitlin and Brianne
See all the pics at
https://buffaloprocheerbuffalojills.shutterfly.com/pictures/4405
Katie K about to drop the puck with Rob Ray and Katherine looking on
On the 1st of April, after the 2007 squad was selected, a pair of Jills made an appearance in Jamestown, NY at Jamestown Savings Bank Arena where a Sabres Alumni game was held for charity. Rob Ray and Darryl Shannon were among the Sabres alums who took the ice and former Bills kicker Steve Christie was on hand to drop the puck for the opening faceoff. Representing the Jills were 3rd year vet Katie K and rookie Katherine K. Katherine, of course, had her greatest fame after leaving the squad when she and her new husband participated in The Amazing Race in a season that aired just over a year ago. After coming in 2nd, there's still a hope they could one day participate in an All-Stars version since they got a lot of interest from fans of the show. This day was long before that Race as well as long before she and Max met. I showed up before the girls did since the arena is only about a mile from my place and checked on things so everything went smoothly for them. When they got there, the two Katie's greeted fans and posed for photos with fans and mascots before dropping the puck for the 2nd period of the game. As things wound down, I got set to head home when Katie asked me how to get out of Jamestown to head back to Buffalo. Katie descibed herself as "goofy" in her bios during her time on the Jills and the only time I ever saw it was when she asked me if I was sure, even though she knew I lived in Jamestown, as if I would steer her wrong.
Katie and Katherine with Jamestown Jammers mascot J.J. Jammer
See all the pics at
https://buffaloprocheerbuffalojills.shutterfly.com/pictures/8937
From the Bandettes comes a photo from the January game against the Toronto Rock. During the 2nd quarter, members of L.B.'s line posed for a photo during a stoppage in play. Shown posing from left to right are Janelle, MaKenzie, Jessica, L.B, Cheri, Chelsea, Amanda, and Kelsey.
Janelle, MaKenzie, Jessica, L.B, Cheri, Chelsea, Amanda, and Kelsey